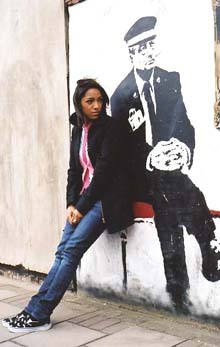 This week you have probably been busy buying the Kate Nash album because all the posters you've seen around the place have made it look really good. Also, obviously, 'Foundations' is one of the best pop singles of the year.
However as London based singer song­writers who have been compared to Lily Allen go — you might want to save your money for the time being, because the Remi Nicole album is offi­cially better, even if there is nothing on it quite as amazing as 'Foundations'.
Her first single 'Hey You' was a bit boring and we were wise to ignore it. 'Go Mr Sunshine' is obviously quite good but 'Rock N Roll' is better. There is less attitude and more song – but since Kate Nash spunked her load upfront, the same approach has been applied to Remi, and 'Go Mr Sunshine' is the safer radio choice.
'Go With The Flow' is the sunny track on the album which is about nothing really but is quite nice. 'Na Nighty' is like a lost Kirsty MacColl track and is quite amazing, 'Tabloid Queen' is a throwback to girly indie records made in the nineties by people like Kenickie and 'Lights Out' is a nice little ballad which finishes things off nicely.
You can listen to some of these on the Remi Nicole MySpace page, but the rest you'll have to wait until the album comes out or acci­dent­ally appears all over the internet.
Sadly, the Kate Nash album is mostly full of wit-free witty lyrics and to be honest, a load of shouting and screaming which lurches out of nowhere to ruin several otherwise quite decent songs.
For some reason Kate Nash has been all over the place telling people that she rushed to finish the album due to public demand and that shows.
Despite the fact that the album will be Number One this week because no one wants to buy the Paul Potts album any more, 'Made Of Bricks' is the sound of a woman trying to record twelve songs in a rush because an achiev­able deadline has been shortened because she is suddenly more popular than she expected and hoping that people will be foolish enough to believe it is the best she can offer. It isn't, people are not stupid and Kate Nash can do a lot better – and they can put that last bit on one of their big posters if they like…
On the plus side, the next Kate Nash single is quite good.