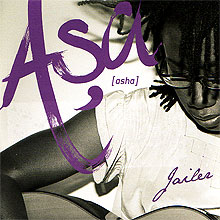 We keep getting sent things by a new artist called Asa.
She's a bit on the 'com­pletely not our bag' side of things but we like how someone has decided that the name Asa is going to cause havoc among record-buyers, meaning that '[asha]' appears on all her sleeves, which sometimes converts to 'pro­nounced Asha' in publicity blurb.
Unfortunately some people have mis­in­ter­preted all this and think that the album is called 'Asha', while in other quarters she is billed as Asa (Asha) — not an unlikely moniker, all things con­sidered, in these days of sT:U[pid]BAND/naM35!!!.
Let's get Asa [asha]'s label on the phone to find out why all this is happening and where the madness will end.

Why did Asa not change her name to Asha or something Google-friendly if it was important for people to pronounce it correctly?
"Asa kept her name with this spelling simply because this is the way you
write in in Yoruba. She wanted to keep the integrity of her name. Asa
means "little falcon" in Yoruba, a nickname acquired following a running
away event in her childhood."
(BORING!!!!)

How suc­cess­ful do you think she needs to be before it is no
longer necessary to have [Asha] on the CD, website or press release?

"Once Asa breaks out to a large popular audience and her name is widely spread."
Well that's no use at all. But we think this might be the start of a new labelling system which could be very useful for music buyers. By the end of next year we want to see — required by law — every sleeve on every new release to include some sort of explan­a­tion of what's going on with the artist and the music on the album.
Lykke Li [licker lee] Il Divo [for your mum] Leon Jackson [come on it was only a few months ago, he was the one who duetted with kylie]
'Etc.'