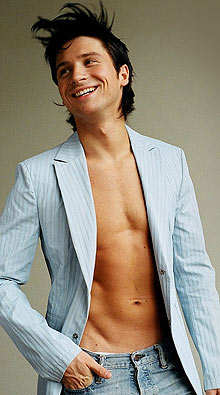 Unlike all other Russian pop acts, Sergey is not a lesbian.
Having said this he was once in a band with Julia and Lena from Tatu but your gran probably knows more about les­bi­an­ism than those two so it means nothing.
Unless his label change their minds at the last minute because nobody in the UK is showing the slightest bit of interest and it's best just to cut losses and pretend it never happened, Sergey is going to release a single at the end of June.
His single is a cover of 'Shattered Dreams' by Johnny Hates Jazz: a song which did not need covering and is not 'Room In Your Heart' by Living In A Box which HAS to be covered by someone in the next 17 months or pop as a concept will cease to exist and the universe will explode.
Like all good popstars, Sergey looks like he will probably get naked at the drop of a hat if it means selling a few extra records. He could, at a push, be described as The Russian Mika, and he has worked with Grammy-award-winning Brian Rawlings.
In other news, the video is all about waking up on the pavement, a bit like that Radiohead one with the man having a lie down. Waking up on a pavement is something we have all exper­i­enced in our lives, and one day someone will make a pop video about waking up and realising you have pulled a chair out of a skip and dragged it home with you. One day, but not today.
Anyway, Sergey — probably pro­nounced Sir Gay, or at least that is what we will be calling him from now on — is on his way.
FYI.