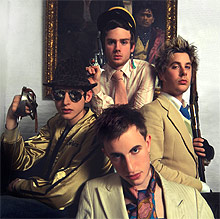 We acci­dent­ally saw an AMAZING new band sup­port­ing Dragonette last week and they are called Palladium.
Here are the problems.
1. The songs on their MySpace don't sound as good as they actually are and in fact sound 'a bit indie'.
Here is the news!
1. They are actually a bit indie and there is no getting away from that. However:
2. They are also EXTREMELY POP.
3. The live exper­i­ence is a bit like watching the Kid Creole Juniors with Timmy Mallet on keyboards.

4. We would go and see them doing a pop concert tonight if we weren't doing some ludicrous pop quiz instead.

5. We think 'Hi 5' and 'Happy Hour' are their best songs.
6. Their MySpace says they are unsigned but that is a pack of lies because in fact they are signed to a not exactly small record label who will make them BIGGER THAN THE BEATLES.
7. They had a bit of a dance to Dragonette after they had finished their set last week so they are alright by us.