The BBC's chief operating officer, Caroline Thomson, is in The Guardian today talking to 'media exec­ut­ives' about 6 Music. Her point — sit down before you read this — is that 37-year-olds (37 being the age of 6 Music's average listener) are catered for by com­mer­cial radio. She goes on to make some good points about the BBC's critics but Christ alive the idea that everybody aged 37 (or any age) enjoys the same type of music is so ridicu­lous that it would be funny were it not coming from the mouth of someone who actually has some control over the BBC's new strategy.
You have to admire the spunk of someone who can stand up in front of media execs and claim with a straight face that someone who currently spends all day listening to Broken Bells, Vampire Weekend and French Horn Rebellion (all of whom, we feel compelled to point out here, are shit) on 6 Music will in any way be well catered for by the com­mer­cial sector, but let's be serious here: 6 Music's listeners will be no better served by the com­mer­cial sector than a man with no arms would be by a lifetime's supply of mittens. This is stated quite clearly in the Steve Lamacq story we linked in today's Newsdump, in which a former oper­a­tions director (ie bigwig) at GCap Media (now Global, who run Capital, Heart etc) says that "com­mer­cial radio can never replicate 6 Music's cultural value – it's not viable for us to do so. We will gain nothing from this closure yet the music industry will lose much".
So that's 6 Music, but the other thing we would like to mention today (and we really will stop banging on about it after this) is that anybody who claims that Radio 1's main­stream output is rep­lic­ated in the com­mer­cial sector is similarly mental. This is where the world's greatest website comparemyradio.com comes up again. Let's compare what Radio 1 played last month with what Capital FM (to pick an example out of the air) played last month.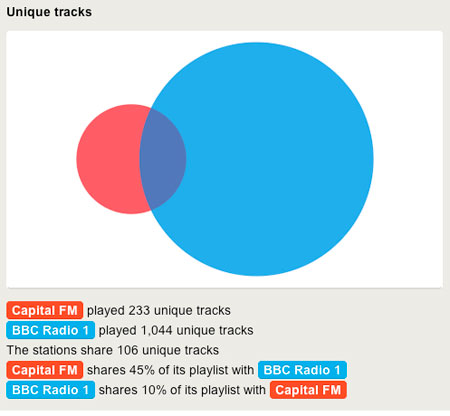 Most of Radio 1's critics — mainly people who never listen to the station or any other main­stream radio and think Radio 1 is just 24-hour Chris Moyles — simply have no grasp of how the station operates after 7pm, or how well it caters for new music across multiple spe­cial­ist genres. Even in daytime, taking the playlist into account, Radio 1 is hardly as 'OMG Cheryl Cole' as the station's more clueless critics seem to imagine. As comparemyradio.com puts it: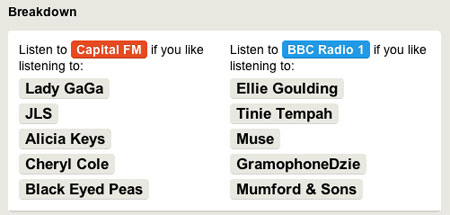 We're not saying Radio 1 is perfect but, as with 6 Music, its critics should at least know what it is they're cri­ti­cising because otherwise the whole debate is just a complete shitshow.