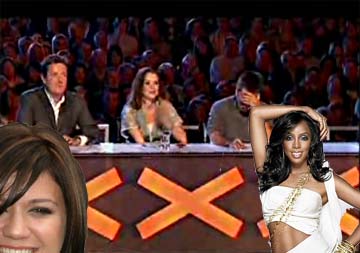 The new
Kelly Rowland
album is worse than three copies of the current Melanie C album played at the same time slightly out of sync with each other, although the first thirty seconds of a song called 'Flashback' are quite good and the single 'Like This' is bearable. You pre­sum­ably know about the latter, however, given that it is already in the Bloody Top Ten.
The rest of the 'Miss Kelly' album is so by-numbers it might as well be an LP about math­em­at­ics. We couldn't remember what it sounded like even while the CD was still playing on the stereo. There are certainly no mentions of ANY col­lapsible water­proof items likely to be raised above the head in order to repel rain.
However, it's probably not as unlisten­able as the Kelly Clarkson album but if we had Le Roc, Llorenna, Laura Michelle, Bryan, Osbourne or R in our names we would be very wary of releasing ANY music in 2007: The Year Of The Crap Kelly Album.
Readers! Has a popstar or musician apart from him out of Bloc Party released ANYTHING worth listening to this year? Let us know!