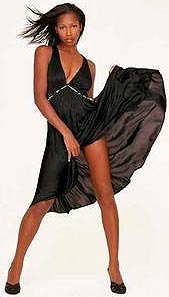 Jamelia, when are you going to approve Popjustice as a friend on MySpace?

"What's your name on MySpace?"


Popjustice. It's very simple.
"Oh my god! I deny anyone I don't recognise!"
We're going to try and add you again right now. Hang on, you've changed your picture. Where's the baby photo gone?
"I've changed it because Darren's getting all these sexy girls asking to be his friend, and I thought my baby picture looked a bit poor next to them. So I did another one on my cam­er­a­phone. If you look on the carpet next to me it looks very dirty."


It does need a bit of a brush.
"Right, so you add me now and I'll approve you tonight."
HOLD ON! You're claiming to be 14 years old!
"Well that's just so my profile is set to private. Although it looks quite bad because on my profile it says I've got two kids, haha!"
If we put '14' on our profile we'd be accused of internet grooming. One rule for popstars, another rule for the rest of us. You're like the Pete Doherty of MySpace ages, or something.
"It's only right, you know."
Oh God now it's saying we need to put your full name in there to apply to be your friend.
"Put in Jamelia Davis. It's a very elite club. More to the point, why is 'Beware Of The Dog' down to Number 2 in the Chart Of Truth?"
Well, it's not as good as 'Maneater'.
"Fair point."
Can you tour 'Beware Of The Dog' with two drummers?
"That's a good idea."
Anything else you want to discuss?
"'Beware of The Dog' getting back to Number One on Popjustice."
Maybe there should be some remixes of 'Beware Of The Dog', prefer­ably by Cicada and Tony Lamezma.
"Okay, we'll do a trade-off. The moment you see me on stage with two drummers, you put me back to Number One. Deal?"
Deal.

Note: this con­ver­sa­tion took place eight days ago. As of today:


:(