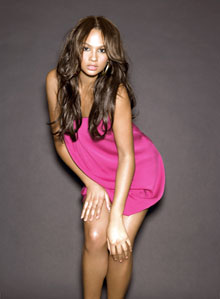 The Alesha Dixon album has now leaked. BAD NEWS FOR ALESHA.
It is quite good. GOOD NEWS FOR ALESHA.
For those of you inter­ested in hearing short low quality bits of two of the songs, the label have put a couple of bits on YouTube: 'Play Me', which invites the listener to strum Alesha like a guitar (!!!!!!!!!!) and 'Hand It Over' which, let's be honest, is a right old mess.
Actually, you might as well just listen to clips of each of the album tracks on this spooky 7Digital widget thing.
Basically, she's alright for singles.