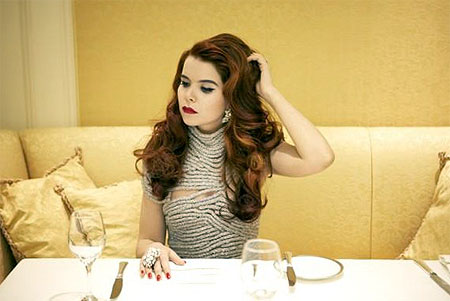 1. It features singer / song­writer / general bright hope for singy song­writ­ing pop warbling Paloma Faith. Who is Paloma Faith? Let's see what she says about herself on her MySpace page. "Be prepared for all your senses to be touched. I fly sometimes,
sometimes I land with a thud. I am never what you think as I am
multiple. Sometimes what isn't said is more powerful than what is. I
hope to grow and surprise you with what you least expect but realise
that pre­dict­ab­il­ity is not a negative thing. The mundane can be
beautiful. So can the extraordin­ary…" Thanks for that love. Translation: "I sing some songs that range from the above average to the really very good."
2. She is thinking about what to have for lunch. It is obviously not dinner (THAT WOULD BE A RIDICULOUS THING FOR A PRESS PHOTO). Deffo lunch. Lunch with Paloma Faith would be amazing, she would spend several minutes thinking about food etc and then the waiter would come and say "would you like some water while you decide on food?" and she would say "NO JUST LOADSABOOZE AND A BREADSTICK EACH PLEASE CHEERS".
3. Over lunch she would probably tell you about her fas­cin­atin' past as a singer in burlesque (ladies in pants) clubs, as a magician's assistant, as a ghost on a ghost train etc. (We have copied all this off a thing on a press release and it might turn out not to be totally rooted in truth but it's def­in­itely the case that she was in that St Trinians film a couple of years ago, make of which what you will.) She would probably also drop into con­ver­sa­tion the fact that she was on the new Basement Jaxx album and you would say "that's inter­est­ing Paloma Faith what's the song like?" and she would proabably say "oh actually I don't know if I'm really allowed to say anything about it" like featured artists ALWAYS do when they're on inter­est­ing albums.
4. "Have you seen the video for my first single?" Paloma would say at one point. "No," you would reply, "I am generally quite busy during the day because I have a proper job and it is difficult to find time to watch pop videos, and then of course once I get home there are various chores to take care of. So no basically I have not seen your new video." And then Paloma Faith would get her iPhone or laptop or whatever out in the middle of the res­taur­ant and you'd have to watch the video there and then and it would be excru­ci­at­ingly awkward just like listening to music in front of the people who've made it is always excru­cit­at­ingly awkward.

httpv://www.youtube.com/watch?v=29zumqpqFLM

5. "That's a good video," you would say. "It's both unusual and usual. Sometimes that is the secret to good pop, isn't it." "Yes I am very happy with it," Paloma would reply, "I really feel it captures my spirit as a performer." "It looks a bit like a Sophie Muller video," you would say. "It is a Sophie Muller video," Paloma Faith would say. "Well I was right then," you would say. "I didn't say you were wrong, did I?" Paloma would say. You'd both be quite drunk by this point. It would all feel a bit uncom­fort­able and then Paloma Faith would ask for the bill and then you'd both leave and say goodbye and say "we really must do this again" even though the chances of it ever happening again were about 5%.
6. Well done Alice Hawkins (for it is she!) for taking the above­men­tioned photograph.