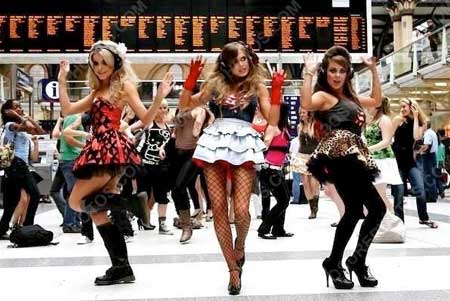 As pop trios go, Dolly Rockers are a likeable bunch.
Last March we featured their song 'Bang Bang' as a Song Of The Day, last September we wrote about another of their songs ('Je Suis Une Dolly') and the following month they played at the Popjustice In The City night in Manchester. Since then they've signed a deal with Parlophone and are heading towards the release of a great new single.
They're funny, gritty and usually drunk with a great manifesto while their massive tunes are destined to rattle Aftershock off the shelves at a thousand glitzy nitespots — and if you think that sounds like pro­pa­ganda, take a listen to the first few seconds of this.
[audio:dollyrockers2009.mp3]
That's 'How Did I End Up With U', which is a sort of long lost inter­na­tional Number One for Kelly Clarkson. Don't you think? We think it's really great. We love the chorus: "how did I end up with you? How did I ever see a perfect ten? How did I end up with you — why do I have this thing for married men?".
It'll be inter­est­ing to see how this one pans out — the trio have certainly put the work in since The X‑Factor in 2006 and a lot of the direction seems to have come from their work with Ray 'Literally Lock Him Up' Hedges. Hedges has obviously approached Dolly Rockers in a very similar way to how he approached the first Lil' Chris album: as a vehicle for a highly stylised pro­duc­tion sound spe­cial­ising in the sort of closely-studied 'homage' that puts food on musi­co­lo­gists' tables.
Watch this space etc.