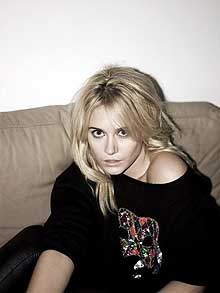 Alex Roots is one of our favourite new pop people and her name rhymes with Little Boots so she is deffo a 'one to watch' for 2009.
She was 15 when we gave her an initial Song Of The Day over the summer. She may now be 16. She's certainly unlikely to be 14 — she's not getting any younger. None of us are.
*Stares wistfully out of the window*
You can hear a handful of Alex's tracks on her MySpace page (it's all very Cyndi, Blondie, Sparks-esque melo­dra­matic pop — if anybody at Syco is reading this that's your Diana Vickers blueprint right there) but we're all busy people and you can't be expected to click around here there and every­where all day so to save you some time here's today's Song Of The Day, 'Put Your Hands Up'…
[audio:putyourhandsup.mp3]
…and here is the song we had as Song Of The Day in the summer, which is called 'Don't Stop Looking'.
[audio:alexroots1.mp3]
Back then we described 'Don't Stop Looking' as "a massively deranged blast of Cyndi Lauper, Avril Lavigne and Abba with a bit of Lil' Chris and Gwen Stefani thrown in for good measure". To our credit, we were right.
Alex has got some live dates coming up. Here are some copied and pasted details you might like to note down in your planner. A 'Roots planner', if you will.
26th November — Hit Sheet @ Cobden Club, London
4th December — YoYo @ Notting Hill Arts Club
6th December — Coition @ SIN, London
9th December — Hooked on Music @ Big Chill House, London
(Route planner.)
AND THERE'S MORE!!! There's also something we've been sent called an 'Alex Roots montage' — a megamix, in other words — which features a few of her tracks. You are allowed to download it, if you wish. Do so here:
There you go. A good new popstar for a Tuesday morning.