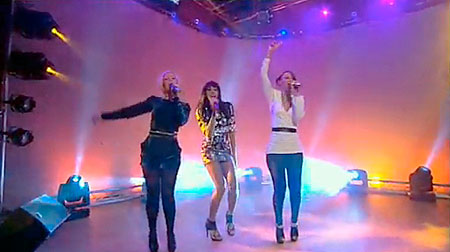 We have received quite a few (twelve) emails from deranged 'Sugababes' fans* wanting to know why we haven't yet written about the Florence & The Machine cover the band performed on Radio One the other day.
Simple answer 1: We didn't hear it.
Simple answer 2: When we were sent a link, it turned out to be a little too heavy on the bongos for our delicate tastes.
We have, however, been enjoying today's GMTV appear­ance by the band. The single 'About A Girl' is yet to really strike us as being anything too extraordin­ary (it sounds like the album will offer better) but it's always inter­est­ing to see how pop groups respond to the harsh, morning light of a GMTV studio with no backing band, no dancers and nowhere to hide. It's an unfor­giv­ing setting for a live vocal.
httpv://www.youtube.com/watch?v=QZLkqEdXwuo

What we like about this — and this might just be terrible cho­reo­graphy but still — is the way the band just kind of let go to the point where, at the three minute mark, they're dancing around and punching the air like the last three standing in an empty Tuesday night discotheque.
On a related note our favourite GMTV clip remains Girls Aloud's per­form­ance of 'The Loving Kind', if only for the incred­ible note Sarah Harding goes for at the 3:37 point.
httpv://www.youtube.com/watch?v=i_L3ZsR05bk

Amazing.
* Sorry but they are. 'Apols.'