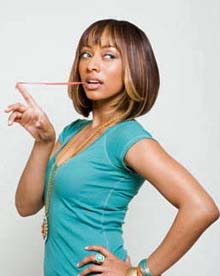 It is time for us to write something about Keri Hilson because she is 50% of what is amazing on the new Timbaland single and has also written the poten­tially quite good but ulti­mately not very good new Jennifer Lopez single.
Hilson (meaning 'son of hil' — maybe someone Hilary) has written unchart­both­er­ing songs for P Diddy, Britney, Usher and Mary J. Blige as well as 'Ice Box' for Omarion (amazing) and 'Wait A Minute' for the Pussycat Dolls (amazing) and lots of the Timbaland album.
Anyway, as we mentioned above the reason for all this deep insight into Keri's life and times is her involve­ment in the new J.Lo track 'Wrong When You're Gone'. It's quite rubbish and boring but mainly because it has been produced all wrong and not because it hasn't been written properly.
It is this, by the way.
httpv://www.youtube.com/watch?v=MfkWtzacjxs