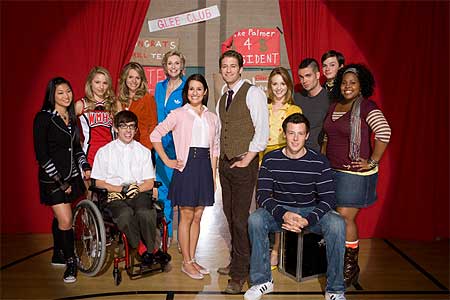 Today's Popjustice Song Of The Day is a cover of Journey's 'Don't Stop Believin'' by the cast of US drama Glee. The show is really funny and amazing and last month E4 picked it up for UK broadcast.
A quick four-point summary of Glee for those of you who haven't yet come across the show online:
» Imagine if, after the first film, the High School Musical franchise had
got really good instead of really shit.
» And imagine if Britannia High
was as funny and clever and layered as everyone involved thought it
was.
» And imagine if the songs performed by cast members included 'Alone' by Heart and 'Rehab' by Amy Winehouse and 'Gold Digger' by Kanye West.
» AND imagine if they also did amazing medleys including one total triumph involving Beyonce's 'Halo' and Katrina & The Waves' 'Walking On Sunshine'.
Actually here's a fairly lengthy trailer which tells you everything you need to know about how brilliant Glee is.
httpv://www.youtube.com/watch?v=Gx9tX1RTNiM

In America the show's key songs are released on iTunes after each episode airs — 'Don't Stop Believin'' has shifted half a million downloads and on November 3 the full cast album comes out. Here's the tracklisting.
1. 'Don't Stop Believin''
2. 'Can't Fight This Feeling'
3. 'Gold Digger'

4. 'Take a Bow'

5. 'Bust Your Windows'
6. 'Taking Chances'

7. 'Alone'

8. 'Maybe This Time'
9. 'Somebody to Love'
10. 'Hate On Me'

11. 'No Air'

12. 'You Keep Me Hangin' On'

13. 'Keep Holding On'
14. 'Bust a Move'
15. 'Sweet Caroline'
16. 'Dancing with Myself'

17. 'Defying Gravity'
You get the general idea.