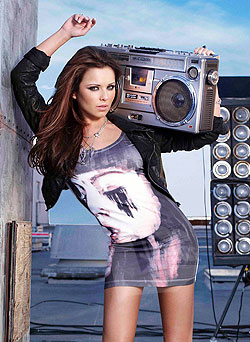 How odd, but how brilliant to be reviewing a Cheryl Cole single. It feels wrong but sur­pris­ingly right.
So here's the thing to get out of the way: 'Fight For This Love' is not a Girls Aloud single. It's a fresh-sounding modern pop record, but it's not Girls Aloud. It's not supposed to be Girls Aloud. Brian Higgins has talked of Xenomania's big flash­point at the start of the decade coming as a reaction to the R&B‑styled pop tuneage that dominated the charts and was, at that point, 'the sound of pop'. 'Fight For This Love' is, if anything, almost an 'anti-Xenomania' record — Cheryl Colo's debut solo single is an R&B‑styled pop tune. Most sig­ni­fic­antly, very import­antly for Cheryl's first solo tune outside Girls Aloud (but also, from the way it sounds, quite unself­con­sciously) 'Fight For This Love' is very def­in­itely not just a Girls Aloud single with one person singing it.
Anyone thinking of doing a Shirley Valentine after hearing about
Leona's new single (general idea: I'm not picking up your socks any
more, I'm off) might have faith restored by 'Fight For This Love' with its belief that "anything that's worth having, sure enough worth fighting for, quitting's out of the question, when it gets tough gotta fight some more" and a fairly clear chorus message: "we gotta fight (fight), fight (fight) fight for this love". In spirit it's either a lot less or a lot more mature than the Leona track; either way it's fucking brilliant. It's one of those songs you can have on repeat for an hour and a half without getting bored.
One thing that hits you is — well, is this really what Cheryl sounds
like? Vocally it's a big surprise. It's so usual to hear Cheryl through
the Xenomania filter. As it turns out, she sounds really great — strong, confident, direct. Like a proper pop singer. We suppose being a member of a pop group for the best part of a decade should have been a fairly strong hint re the whole 'proper pop singer' thing but you know how it is with members of bands — they're just members of bands until, er, they're not any more. (This paragraph might need a bit of work — Ed)
Like some of the best pop tunes 'Fight For This Love' is a very simple affair without
bells, whistles or kitchen sinks, but there's more going on than is initially obvious and the production's certainly a cut above. The song doesn't start with a big fanfare — it eases itself into view and
suddenly Cheryl's singing and the song's started — and it ends not with
a bang but with a gradual fade. It's a sleek, powerful pro­duc­tion and while we were walking across a bridge yesterday evening it
was unex­pec­tedly this, not the Leona single, that we found rattling around in our
head. GET THE CHAMPAGNE OUT POLYDOR, IT PASSES THE BRIDGE TEST.
Worst Line/Best Line
»
"Every day ain't gonna be no picnic, love ain't no walk in the park" (outdoor pursuit double neg­at­i­ve­o­meter explodes)
»
"Just know that united we stand alone" (amazing)
The Best Four Motoring References In This Tune
» "Makes it hard to know which road to go down"
» "Is it better is it worse are we sitting in reverse?"
»
"What I don't wanna do is crash"
»
"We've been driving so fast we just need to slow down"
Additional Data
» There's a breakdown clap along bit after the middle eight. Oh yes.
» The middle eight is the best bit.
» This would be a good Whitney track — in fact at times there's a bit of a Whitneyish tone to Cheryl's voice.
» If this song was walking down the street, they — and by 'they' we mean general passers-by — would say 'hey sexy'. Sadly the street in question would be one outside a mental hospital following a large-scale breakout because in real life people in total control of their mental faculties do not pass people in the street and say 'hey sexy' to them.
» It's better than all Thom Yorke solo material ever.