Apparently with shows like last night's Popjustice Presents at London's Bush Hall it is 'de rigueur' to tear the arse out of the whole thing with an endless string of video clips, podcast excerpts, galleries, per­form­ance shots, quotes and rubbish. We offer three crap iPhone photos.
1. Logo and chandelier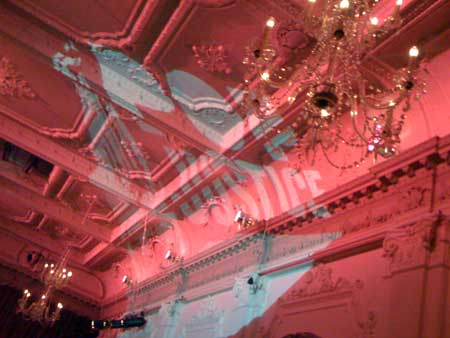 A nice logo splashed up a posh wall — amazing.
2. Bright Light Bright Light a‑warblin' a tune
Bright Light Bright Light 'won over' the crowd (we'll give you a clue here, it was mostly Hoosiers fans so they were fairly easy to win over) with a v amazing set. More news soon on the singer about whom they're all saying 'he used to be called Rod Thomas but now isn't'.
3. The Hoosers 'put on quite a show'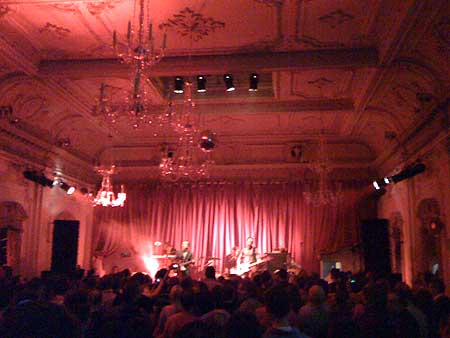 They played a selection of the brilliant tracks on their new album, a couple of rubbish old songs, and a couple of old songs that seemed rubbish at the time but made a little bit more sense alongside the good stuff from the new album. There were smoke machines, flashing lights and a full brass section. (Amazing.)
In further ineptitude news we didn't even take a picture of the supremely amazing Fear Of Tigers, who provided some between-band excite­ment with a great DJ set. We could draw a picture but pictures like that always go wrong.
Thanks to everyone who played, helped out and came along.
'The End.'