LONDON
Jan 23 2011
Hi!
We are aware that you have been having trouble with Lana Del Rey for some time now. When you know that a rela­tion­ship isn't working it is somtimes hard to move forward but we just want to let you know that it is alright to make a clean break. And maybe the right time is now. Maybe now it is time to let go of Lana Del Rey. And that is fine. Do not feel guilt. She is safe in the arms of pop.
Why now? Well, she's got a proper single out this week. This is the one that's supposed to be 'the big one'. And yes we know the acci­dental Top 10 hit last year confused you a bit, because you weren't sure whether you were already supposed to have bailed on her by that point, so your end-of-2011 year in review articles were a bit muddled. You didn't know what you were supposed to think any more, but that does not matter any more because, like we say, you can walk away right now with your dignity.
And there's no need to feel bad that it hasn't worked out. You've given it a good go. You've had your chance to impose your boring ideas of authen­ti­city onto a pop creation, to express your disgust that she might be better in the studio than on the stage. That's the way you like to judge things and that's fine, it's just that this isn't how pop works, and Lana Del Rey is a pop thing. A hot, melodic, major label-signed pop thing.
You were probably starting to realise about ten weeks ago that the whole Lana Del Rey 'pro­pos­i­tion' was a bit less complex than you'd made it out to be. You realised that her music didn't really sound like anything else you wrote about, but you still wanted her to be 'your' pop princess. The Britney of alt! Maybe the David Sneddon co-writes were the last straw, maybe it was the cover of Q Magazine. But isn't that still inter­est­ing in a looking-at-it-from-the-outside sort of way? Not really, but we admire you for trying to keep that going.
The point is, you've had your oppor­tun­it­ies to big her up and knock her down and do this and do that. You've had the leaks and the 'leaks' and the streams and the mixes. Oh, those mixes! The mixes were made just for you! We know that made you feel special. And now you feel betrayed because she was just like all the other girls, with their blog-friendly pos­i­tion­ing and their secret fantasies of a Top 10 hit. We know you're upset and we know you're angry but please don't talk about being used. You want to be used. You want to be a taste­m­aker. You want to be the one PRs and pluggers and labels come to when they want to launch a new artist. You want to decide when things are good or bad and you want the comments on your blog articles from the people who disagree. Well you've had all that. You've done all you can. You've done your think­pieces and your polls and your faceoffs. You've had your traffic. There is nothing more you can say or print or publish or broadcast to change things now.
So let her succeed or fail on her own terms. These are the terms of the popstar, for that is what she is. If she succeeds she succeeds as a popstar; if she fails, she fails as
one too. Leave her to the main­stream chat shows. Leave her to the daytime radio playlists. Leave her to the Top 10, or the Top 40, or the Top Wherever-She-Ends-Up. Because that is what this was all leading up to. Don't act all surprised. It is not our fault you do not under­stand this popstar. We know you are embar­rassed that you got it wrong, and we know you're not sure how to handle the situation now. Do you continue the support? Do you lash out? Do you try to do both at the same time because you're not sure how many records she's going to sell and you want to maybe keep your readers on side? The answer is easy. If you don't feel that she's part of your world, let her drift away while you go back to plotting that defin­it­ive Bon Iver thinkpiece.
Yes we know you'll be writing articles about how right you were if she succeeds or how wrong your peers were if she fails by the time the end of 2012 reviews roll around. We know she'll either be the multi-platinum pop creation you created or the faker who deserved everything she got. So why not write those think­pieces now? Why not write them now, print them out onto some nice paper then take them into a field and set fire to them, because we don't want or need to read them.
If a kid picked and poked and pushed and pulled a rabbit you'd take the rabbit away from them.
You cannot be trusted with a popstar.
You've had your chance.
Hand her over.
Love,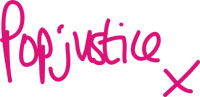 PS: You can have Santigold back if you want.