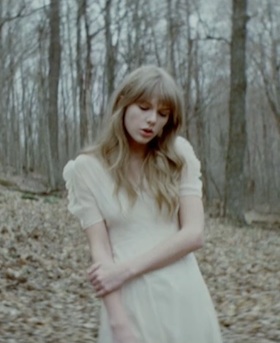 Taylor Swift has 'unleashed' her video for 'Safe And Sound', which features her walking alone in the woods looking sad and lonely. (MTV) Depending on your emotional state today, it might make you feel worse than you already did, so tread carefully.

A "crazed" sea lion tired to bite Shakira last weekend after she got too close to it. (The Sun) "I believe it confused the reflec­tion of the BlackBerry phone," she notes, "with some sort of fish. It thought I was teasing it with food." Incredible.

In all the Grammy excite­ment over the weekend, you may have missed this vital piece of news: 'It's All Gravy' hitmaker Christina Milian has signed up to Lil Wayne's Young Money label. (Billboard)

Wondering what's up in the world of Nicki Minaj? WONDER NO MORE. The Catholic League has condemned her amazing Grammy per­form­ance as "vulgar" and are unsure as to whether she was truly possessed or not. (Ace Showbiz)

Bantering Imbecile Frankie Cocozza and his 'best mate' Kirk Norcross have been pho­to­graphed topless in bed together with champagne and chocolate for a 'hilarious' Heat magazine spread. (Daily Mail) Well done everyone.

will.i.am has released a video for his new single 'Great Times', as part of his ground­break­ing '#willpower campaign'. (YouTube) It's exactly like you'd imagine a song by will.i.am called 'Great Times' would sound.

Patrick Wolf, Ronika, Emeli Sandé and Azealia Banks are some of the artists who will be per­form­ing at Lovebox in June. (NME) So will HOLLY JOHNSON.

DJ Fresh's 'Hot Right Now' was ori­gin­ally meant for Jessie J but her own producers, The Invisible Men, told him to give it to Rita Ora instead. (Daily Star)

And finally, don't despair if you're not with a loved one today, as Nadine Coyle, Harry Styles, Goldfrapp and Ludacris are just a small sample of the popstars willing to give all their love to you. Not all at once, neces­sar­ily. Mind you that'd certainly be something to tell the grandkids about.
THAT WAS some of THE NEWS.