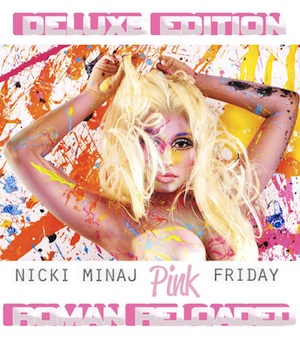 Nicki Minaj claims that 'Pink Friday: Roman Reloaded' "has no bound­ar­ies", and that "the album cannot be boxed in". (Vibe) She also notes that "there is no rap or pop for me. It's Nicki Minaj. It's one col­lect­ive body of amazing work". So modest.

Jessie J looks like she's enjoying steaming her voice a little bit too much in this pho­to­graph.

Kelly Clarkson will be joining 'Too Hot Ta Trot' hitmaker Lionel Richie as one of the judges on ABC's Duets talent show. (Sky News Australia)

Meanwhile in 'we're not exactly sure if this is the right career move' news, Britney Spears is 'appar­ently' in the final stages of nego­ti­at­ing a contract to be a judge on the next season of US X Factor. (Hollywood Reporter) Britney, they will chew you up, spit you out and then shit on you. Call Cheryl Cole for a five minute chat before you sign the contract.

Adele's house-hunting days have come to an end, as she's found somewhere like new in Brighton to live. (The Sun)

The Saturdays have been modelling the latest Sport Relief socks hiding behind red doors, pre­sum­ably in a bid to look naked or hide Una's massive baby bump. (Daily Mail) Or both.

In a continued bid to be more like Alexandra Burke, Kelly Rowland has signed off the prototype designs for her watches, which is good to know. (Professional Jeweller)

Christina Aguilera has released a new Spanish track called 'Casa Di Mi Padre' and it's a bit of a racket. (Ace Showbiz)

And finally, Florence Welch of Florence '+' The Machine fame sometimes gets lost when she's riding a bike, and had to ask a group of kids to help her find her back home last week. (Monsters And Critics) Let's hope she doesn't go out cycling when there's no light no light AHAHAHA HAHAHAHAHA HAHA HA oh please yourselves.
THAT WAS some of THE NEWS.