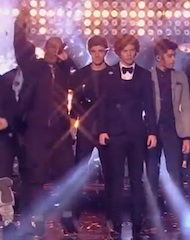 If you thought JLS and One Direction singing together for about 9 seconds at the end of 'Wishing On A Star' wasn't quite enough, don't worry: they will be per­form­ing a "mash-up" (OH CHRIST) on the X Factor Final. (The Sun)

In further X Factor-related news, the finalists are 'appar­ently' going to perform with each of their mentors. (Daily Mirror) Get ready for Amelia Lily 'putting it down' as she performs a 'high-energy' megamix of just-about-above-average Kelly Rowland hits, only for Rowlo to burst on at the end, steal the show with 'When Love Takes Over', superglue herself to the stage and threaten to blow the building up with a concealed bomb to which only she knows the deac­tiv­a­tion code unless she is crowned X Factor Winner 2011.

Professor Green is com­pletely fine that his album was released the same week as Florence & The Machine's, thank you very much. (Daily Star)

Adele's '21' and 'Rolling In The Deep' have been named as the best album and single of 2011 respect­ively by Rolling Stone magazine. (Contactmusic)

'That's How I Beat Shaq' hitmaker and Singing No-Longer-Child Aaron Carter has been reas­sur­ing himself. (Twitter)

Gene Simmons 'branded' Madonna a karaoke singer when asked about her forth­com­ing Super Bowl per­form­ance. (TMZ) Fuck off, Gene.

Don't place your order for a slow cooker just yet: Justin Bieber and Selena Gomez are not getting married. (Us Weekly)

This is a fairly long and tedious interview with will.i.am's chum Cheryl Cole talking about clothes. (Telegraph)

And finally, in what has gradually become one of the digital age's more irrit­at­ing trends, some members of the Royal Navy have put together a video of them miming on Mariah Carey's 'All I Want For Christmas Is You'. (BBC) Hilarious.
THAT WAS some of THE NEWS.