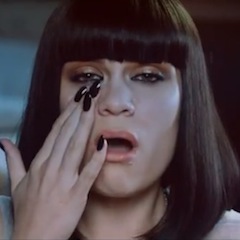 Jessie J woke up in a bad mood in Australia today, but don't panic as her TwitLonger (of course) reveals that she knows it's "gonna be a GREAT day and a GREATER show!" (TwitLonger) So inspirational.

'Russian Roulette' hitmaker Marcus Collins felt a bit out of his depth when he started recording his debut album, as "there were plaques all around the room from such artists as Tina Turner, Michael Jackson, Cher". (Daily Star) But he soon got into it with Gary Barlow — "the fountain of all knowledge" – hanging around.

Avril Lavigne won Top Pop Artist at the Billboard Japan Music Awards, while mega-girlband AKB48 won pretty much everything else. (Contactmusic)

Following in the footsteps of Britney Spears' mother, Pattie Mallette shall be penning her own book called Nowhere But Up: The Story Of Justin Bieber's Mom. (Billboard)

A new shocking twist in The X Factor saga: Olly Murs might not be present­ing a new series of The Xtra Factor, as he's set to support One Direction on their next US tour. (The Sun) This will mean he's both off our TV screens AND out of the country, so it's win win really.

Demi Lovato has revealed that 'Up To The Mountain' song­stress Kelly Clarkson is her "ultimate idol", so expect her rendition of 'The Star-Spangled Banner' in the near future. (MTV)

The Voice has released its first full trailer, which in no way makes the spinning chairs look like the best bit of the show. (YouTube) WARNING: around the 12 second mark there is a gra­tu­it­ous wink given by Matey Boy From The Script, so you might want to avert your eyes at that point.

JLS, One Direction, Professor Green and Ed Sheeran (!) are the potential headline acts at this year's T4 On The Beach. (This Is Somerset)

And finally, with all the rumours sug­gest­ing that Lady Gaga will appear in Men In Black III, many people have 'forgotten' ('didn't realise') that Nicole Scherzinger is actually in it. Here she is carrying a big pink cake.
THAT WAS some of THE NEWS.