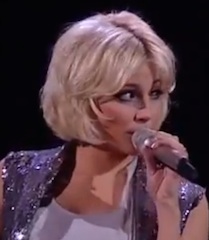 The heart-stopping com­bin­a­tion of Pixie Lott, Nicole Scherzinger and Cee Lo Green all did stuff at The Royal Variety Performance in Manchester last night. (Daily Mail) Pixie and Princess Anne appear to have got on reas­on­ably well, which is good to know.

In his first solo gig in over ten years, Gary Barlow got a little bit tetchy with the crowd. (Daily Mirror) Considering Olly Murs, Jason Donavan and Lulu were in all 'in attend­ance', this seems perfectly understandable.

Global Songstress Leona Lewis has def­in­itely covered Nine Inch Nails/Johnny Cash's arms-aloft raveathon 'Hurt' for her new EP. (NME) Well done everyone.

On the topic of dodgy rock bands, Shakira is a big fan of Metallica and has started including one of their songs in her "rep­er­toire". (Contactmusic)

In news that has def­in­itely not been made up, JLS are thinking about devel­op­ing a chain of hotels called JLS Towers. (Daily Star)

A new Ke$ha song called 'Only Wanna Dance With You' has leaked. (Ace Showbiz)

If you happen to bump into 'Billionaire' scriber Bruno Mars, be careful with your cameras. (Twitter)

Taylor Swift would quite like to work with col­lab­or­a­tion-shy artiste Nicki Minaj in the future, but they haven't planned it yet… (MTV)

…although this may be because Singing Child Willow Smith has beaten her to it, as demon­strated in this 30 seconds 'teaser' for their 'Fireball' video. (YouTube)

And finally, 'Un Femme En Prison' hitmaker Kelly Rowland has a moving mole on her face (The Sun) and in time-honoured tradition the mole (whose life may or not have been stole) has got its own Twitter account because that sort of thing is really funny isn't it AHAHA AHAHAHA AHAHAHAHHAAHAA. *Places Amazon order for 64-page £3.99 toilet book*
THAT WAS some of THE NEWS.