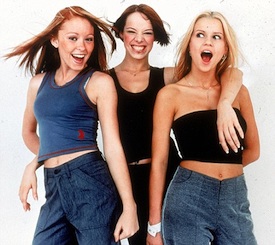 Not to be outdone by the Girls Aloud reunion plans, Atomic Kitten have now confirmed their comeback with Kerry Katona poten­tially in the line-up as well. (Daily Star) Poor Heidi.

There was only one inter­est­ing new entry on the charts yesterday, and it was Demi Lovato's 'Skyscraper' soaring in at Number 32. (The Official Charts) Well done everyone.

Apparently Cheryl Cole's next album will feature an "urban, mid-tempo ballad" written (left off her album) by Authentic Chanteuse Lana Del Rey. (The Sun)

Rihanna was rehears­ing for the video shoot of 'Where Have You Been' this weekend, which suggests it will probably follow 'Talk That Talk' as the next single. (Ace Showbiz)

The Wanted had a bit of scare recently when a fan got on their tour bus and refused to leave. (Contactmusic) Max notes that "she started to scare the shit out of me, to be honest".

Robyn has tweeted an upside down picture of herself with 'Breathe, Stretch, Shake' hitmaker P Diddy. (Twitter)

In further 'news from the Twittersphere', Dr Luke has promised that some new music from Ke$ha will be coming soon, but it's taking longer than they thought.

Beyoncé is planning a yoga holiday with Glee song­stress Gwyneth Paltrow. (Belfast Telegraph)

"A spy" of Cher Lloyd has 'revealed' that her man­age­ment has told her to stop acting like a diva and to "get a grip". (Telly Mix)

And finally, some unre­leased Aaliyah songs look set to come out in the near future. (That Grape Juice) Let's hope they're not shit.
THAT WAS some of THE NEWS.