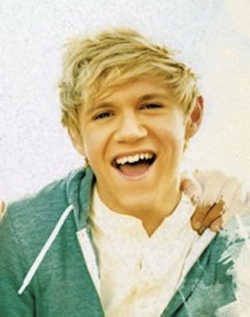 In stories placed by pub­li­cists in order to make specific band members seem more popular and all band members seem even more in demand news, One Direction frontman Niall Horan is appar­ently "seething" (having a wank) after the group have been banned from having sex while they're in the US. (The Sun) A "source" notes that "Niall is fighting off the women with his Irish accent and good looks so he's having to live like a monk".

Meanwhile, Tom Fletcher of McFly will be penning more songs for the band. (Contactmusic)

Michelle Obama will present Taylor Swift with The Big Help Award at Nickelodeon's Kids' Choice Awards, for all her charity work. (Billboard)

'Shout' hitmaker Dizzee Rascal has been talking about his recent col­lab­or­a­tion with DJ Fresh, stating that "I just did a little sneaky tune…a sneaky big one". (Daily Star) Sounds like he's talking about a poo doesn't it viewers. "JUST CURLED OUT A MASSIVE HIT." "EXCELLENT DAY IN THE STUDIO BUT I'D GIVE IT A FEW MINUTES IF I WERE YOU." Etc.

Notable radio DJ Reggie Yates reckons he missed his chance with Beyoncé when he inter­viewed her six years ago. (Metro) He modestly notes: "Genuinely, I think she flirted with me… She was looking deep into my eyes. She felt me. She wanted me!" She wanted you to get on with it then get out of her personal space, Reggie.

Cheryl Cole finds walking down any red carpet a "ter­ri­fy­ing" exper­i­ence, but does enjoy a nice glass of champagne after the event. (STV) CALL THE SHOWBIZ MEDIA: CHERYL COLE IS SCARED OF CARPETS! CHERYL COLE DRINKS ALCOHOL! PALS WORRIED FOR BOOZY CARPETPHOBIC CHERYL!

The Sound Of Arrows have remixed Royal Teeth's 'Wild', which you can download for free here if you want to.

Happy Birthday to Lady Gaga, who is 26 years of age today. The only appro­pri­ate way to celebrate is to watch this 26 times in a row.

And finally The Flamings Lips will be using the blood of artistes such as Ke$ha as part of the packaging for their Record Store Day release 'The Flaming Lips and Heady Fwends'. (NME) The good news is that Niall from One Direction has already prepared his contribution.
THAT WAS some of THE NEWS.