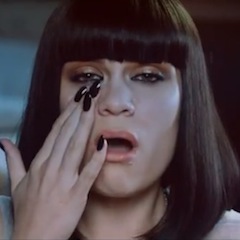 Jessie J's 'Who You Are' is the UK chart's biggest selling debut album of 2011 so far. (The Official Charts) Matt Cardle's 'Letters' is currently aiming to overtake Hugh Laurie's 'Let Them Talk' for the coveted eighth position. Shit just got serious (and authentic). (And shit.)

In a story that has def­in­itely not been made up, Lady Gaga and Queen might be doing the new James Bond theme song together. (Daily Star) It is also 'revealed' that Simon Cowell may have a Bond night on The X Factor next year.

In other X Factor news, Adele will be singing at the final on December 11. (The Sun) It will be her first per­form­ance since her throat operation earlier this month. It is such a cruel twist that Craig will not be around to join Adele in a 'looking defiant and pointing fingers upwards' sing-off. :(

Katy Perry might play Marilyn Monroe on Broadway one day. (The Washington Post)

Lauren Bennett — who sang on LMFAO's timeless 'Party Rock Anthem' – will be in the new Pussycat Dolls lineup. (Billboard) She is currently the only member of the group. Incredible.

This is an amateur video of 'besties' Taylor Swift and Selena Gomez singing on stage for the first time together. (YouTube)

Justin Bieber and his ''big bro'' Usher caused some slight traffic delays when they performed at the Rockefeller Plaza yesterday. (Contactmusic)

Alexandra Burke has seemingly given up on being a popstar and is now promoting watches for Argos. (Twitter)

And finally, Britney Spears is the most ''circled'' person on the social network phe­nomenon that is Google+. (The Atlantic Wire) We suppose she should probably be known as Britney Spheres from now on, right? Ahahaha hahaha aha ahha ahahaha.
THAT WAS some of THE NEWS.