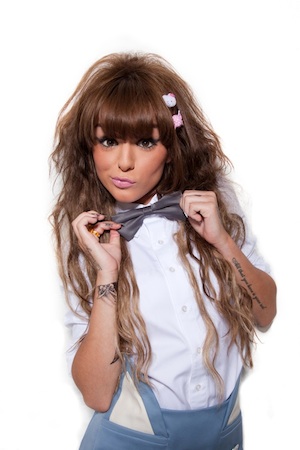 Model agency Select have signed up 'Cooler Than Me' chanteuse Cher Lloyd. (The Sun) The company notes that "she rep­res­ents everything that we love about the youth today", which is quite a thought.

Nicki Minaj has released the 47th song from her 'Roman Reloaded' album campaign. This time it's the title track and it's shit. (YouTube)

Prince Charles was naturally very excited that he got the chance to meet Cheryl Cole last night. (Daily Mail)

You can now listen to the Far East Movement and Justin Bieber song 'Live My Life' in full here. We can't wait for the LMFAO remix.

In further Justin Bieber news, he's fronted a don't‑text-and-drive advert­ise­ment campaign. (andPOP) He wears a silly hat and holds an above-average sized umbrella to protect his beautiful hair.

'Friend Of DJ Fresh' Rita Ora has released 'Party and Bullshit', which is a lot better than the title suggests. (That GrapeJuice)

Meat 'I See Dead People' Loaf has 'revealed' that he often has super­nat­ural exper­i­ences, and once couldn't tell the dif­fer­ence between a ghost and a groupie. (Contactmusic)

Katy Perry sports a big orange wig that makes her look a bit like Brian May for her cameo per­form­ance in TV show Raising Hope. (Daily Mirror)
THAT WAS some of THE NEWS.