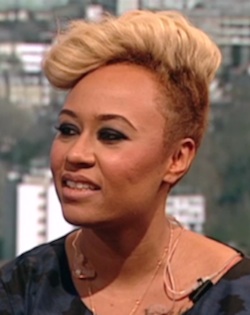 Emeli Sandé looked a little bit on the sleepy side as she joined Nick Clegg and Jeremy Irons on The Andrew Marr Show yesterday morning. (BBC iPlayer) Skip to the last five minutes to watch her perform an authentic acoustic version of 'Heaven'.

'Our Lips Are Sealed' hitmaker Hilary Duff has been recording some new music, which is appar­ently for the 'much-anti­cip­ated' follow-up to 2007's 'Dignity'. (Us Weekly)

Katy Perry's 'Teenage Dream' campaign looks set to continue for at least another decade, as 'Teenage Dream: The Complete Confection' will be released in the US on March 13. (That Grape Juice) We're looking forward to more guest raps, endless remixes, and ever-so-slightly desperate attempts for Number One singles.

Kelly Clarkson sang 'I'd Rather Go Blind' in tribute to Etta James over the weekend, which you can watch an amateur video of here. (Ace Showbiz)

Destiny's Child briefly became a four-piece again as 'Auntie' Kelly Rowland and Michelle Williams visited Beyoncé and newest member Blue Ivy. (The Sun) JOKE ABOUT BUGABOO PRAMS AND THE DESTINY'S CHILD SONG BUGABOO TO GO HERE PLEASE

In 'na na nai wanna be left alone right now' news, Tulisa and Fazer of N Dubz have split up after having too many rows. (Daily Mirror)

"I love a good McDonald's": the wise words of Nicola 'Alex James' Roberts, who continues to speak on behalf of a nation. (Daily Star)

Alicia Keys performed 'Empire State Of Mind (Part II)' and 'No One' at the Producers Guild Awards on Saturday night in honour of little-known director Steven Spielberg. (Rap-Up)

And finally, if you missed it over the weekend you can watch Nicki Minaj's new video for 'Stupid Hoe' at YouTube. In other Nicki news, her album 'Pink Friday: Roman Reloaded' has been pushed back until April 3. (Billboard) Promising signs, you'll all have to agree.
THAT WAS some of THE NEWS.