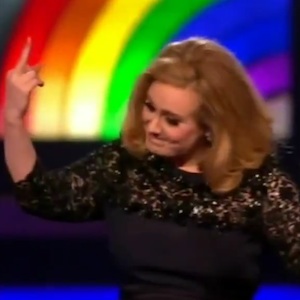 In case you missed the Brit Awards due excessive pancake con­sump­tion last night, One Direction, Rihanna and Authentic Chanteuse Lana Del Rey all picked up an award each, while Ed 'I'll wear my smart clothes when I'm about to win' Sheeran got two. (ITV) But the main highlight was Adele 'doing an MIA' and wagging her middle finger to The Powers That Be for cutting her accept­ance speech short for Best British Album.

More shocking twists from the X Factor camp, with 'Pretty Please (Love Me)' hitmaker Estelle maybe in line to replace Kelly Rowland. (The Sun)

Ke$ha has been express­ing her love for Kelly Clarkson's 'Stronger (What Doesn't Kill You)' by noting that it makes her "want to punch inanimate objects. In a GREATT way". (Twitter) We know exactly how she feels.

In further Kelly Clarkson news, she covered Demi Lovato's 'Skyscraper' the other day, which you can watch at Neon Limelight.

Justin Bieber's second book — entitled Justin Bieber: Just Getting Started – will be released this September. (Billboard)

Taylor Swift and 'Bet On It' chanteur Zac Efron did their own take of Foster The People's 'Pumped Up Kicks' on The Ellen Show recently. (Ace Showbiz)

In 'strike while the Brit award's hot' news, One Direction have announced dates for their 2013 UK tour, with tickets available from Saturday. (Stereoboard)

Tinie Tempah has revealed that his new album will be called 'Demonstration', and it should start "seeping out" from next month. (BBC Newsbeat)

And finally, another day that ends in the letter 'y', another Nicki Minaj track: this time she's featured on Ester Dean's 'Gimme Money', a loving "homage" to a song Dean pre­vi­ously wrote, 'What's My Name'. (That Grape Juice) We like the bits where it sounds like Nicki's going 'oink' in the back­ground.
THAT WAS some of THE NEWS.