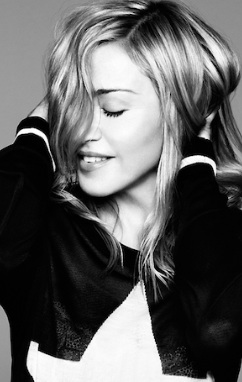 After the 'moderate' success of 'Give Me All Your Luvin'', Madonna's manager Guy Oseary has confirmed that the video for follow-up single 'Girls Gone Wild' will be shot this week. (Twitter)

Nicki Minaj has come fourth in MTV's 'Hottest MCs In The Game' list. (MTV) It is nice to see classic lines like "jump in my hoopdy hoopdy hoop" getting some recognition.

Jennifer Lopez and Fergie were 'in attend­ance' at the start of Rio de Janeiro's Carnival Parade, flogging beer and shampoo respect­ively. (The Telegraph)

At a DJ set in Las Vegas, Redfoo from LMFAO previewed a snippet of the RedOne-produced Far East Movement track 'Live My Life' featuring Justin Bieber. (Ace Showbiz) WARNING: clip includes Redfoo shouting and a flying inflat­able zebra.

In further amateur footage, Kelly Rowland sang 'The Greatest Love Of All' at Muhammad Ali's Birthday bash over the weekend. (That Grape Juice) So inspirational.

More Kelly news: Kelly Clarkson looked like she enjoyed having her picture taken with Beauty & The Beast at Disney World yesterday. (Gossip Center)

In 'Whiff Of Bollocks' news, 'appar­ently' Lady Gaga has enlisted Deepak Chopra to help "banish evil spirits from her life" due to a recurring dream she has involving a phantom pulling a girl's limbs apart. (Daily Star) How lovely.

Selena Gomez has hit 'inverse colour' on Photoshop for a new 'Hit The Lights' video remix. (Pop Crush)

And finally, Rihanna turns 24 years of age today. Let's celebrate with one of her under­rated classics. Have fun tonight Rihanna — don't do anything we wouldn't do!!! Oh you already have.
THAT WAS some of THE NEWS.