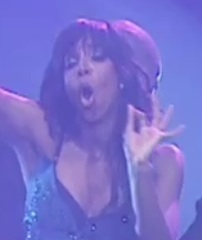 In a bid to help her new album inch its way closer into the Top 40, Kelly Rowland headlined the BBC 1Xtra Live show at the Brixton Academy last night. (1Xtra) Jessie J also performed wearing Hamburglar's latest 'onesie'.

Aston from JLS and Olly Murs are organ­ising a 'mini-break' to Amsterdam over the New Year. (The Sun) So far they've planned a tandem bike ride, a trip to the Van Gough Museum and a romantic walk along the city's many canals. Or maybe they'll just do unspeak­able things to women in exchange for cash. Who knows?

Nicki Minaj's new teaser single is called 'Roman In Moscow', and should be available to hear later today. (Ace Showbiz)

The Wanted like it when fans hassle them at airports, as their seats tend to get upgraded as a result. (Daily Star) "Such a good use of fans", notes Jay. What a guy.

Germany-touring singing sensation Melanie C has ruled out another Spice Girls reunion. (Contactmusic) Which probably means they're getting the Spice Bus ready for the Olympics as we speak.

Make a note in your 2012 diaries: Madonna will be appearing on The Graham Norton Show on January 13. (What's on TV)

Alexis Jordan has gen­er­ously given us a "glimpse" of her recording with little known pro­duc­tion team Stargate. (Twitter) Bear with her, as around the 1:20 mark it starts to sounds quite good.

Singing Child Willow Smith's debut album will be released on April 3 next year. (BET) We prefer her early work.

This is a mildly diverting interview with Wynter Gordon, if you can get past the interviewer's Godawful voice. (CY Interview)

And finally, the 'I've Just Begun (Having My Fun)' hitmaker Britney Spears is 30 years old today. Here is a video to honour the special occasion. (YouTube)
THAT WAS some of THE NEWS.