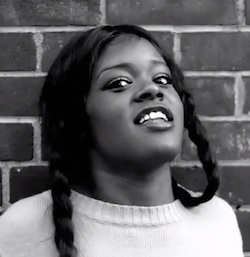 "Wow I just wanna drink a million bottles of champagne": the under­stand­ably excited words of demure rapper Azealia Banks, whose Universal contract has now been announced. (Pitchfork)

In further 'get them while they're fairly hot' news, 'Want U Back' ruiner Astro and 'other US X Factor bloke' Marcus Canty have been signed to LA Reid's Epic Records. (Ace Showbiz)

Rihanna has announced that she will be per­form­ing 'Princess Of China' with Coldplay at the LL Cool J-hosted Grammys next month. (Twitter) We're not exactly sure where this leaves their presumed Brits per­form­ance, but it does suggest that the UK show's 'surprise' collabo is more likely to be a Jessie J/Ed Sheeran 'effort'.

In a bid to deflect attention from the 'Born This Way' copycat alleg­a­tions that Madonna recently reignited, DJ White Shadow has had a go at David Guetta and Nicki Minaj's 'Turn Me On', saying it is like 'Only Girl (In The World)' "in a very ugly dress". (That Grape Juice) Nice one, 'Shadow'.

'It's My Time' scribe Andrew Lloyd Webber would appar­ently like Shatterer Of Children's Dreams Nicole Scherzinger to be a judge on his 'hotly' anti­cip­ated let's‑find-me-a-Jesus ITV1 talent show extra­vag­anza. (The Sun)

Steer Elly from La Roux well away from LMFAO, as she is "terrified" of sexy songs. (Contactmusic)

Occasionally dodgy driver Justin Bieber has scribbled his name on a car that's going to be sold on eBay. (The Star) Unfortunately it's not his ever-so-slightly extra­vag­ant batman sports car, but a Hyundai.

This is a fairly irritaing opinion 'piece' about Madonna, cooking and feminism. (Scotsman)

And finally, Adele is "staying strong" after having a curry ban imposed on her in a bid to help her voice recover more quickly. (Daily Star) Never mind, she'll find something like aloo.
THAT WAS some of THE NEWS.