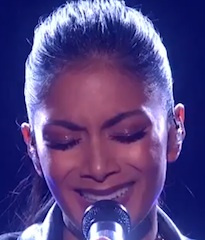 Nicole Scherzinger, Shatterer Of Children's Dreams had a bit of a run-in with Mexican gunmen recently, while out there filming her video for 'Try With Me'. (The Sun) Choreographer extraordin­aire Brian Freidman was also 'in attend­ance' and said that it was "the craziest trip ever", which seems like a fair assess­ment of events.

In further Nicole news, she performed her new song 'Pretty' on US X Factor last night. It involved an intense amount of lip curling action. (YouTube) So emotional.

At the launch of her latest 'fragrance' Meow!, Katy Perry said that this year she's felt like she's "been clinging on to the rocket for dear life, hoping I don't get bucked off". (Mirror) It is nice to know that Katy lifes her life like she writes her lyrics, ie unable to sidestep the call of the mixed metaphor.

Adele and Britney Spears have been the big winners of the Billboard.com 2011 Readers' Poll. (Billboard) Britney's Femme Fatale tour was voted the best of the year (Jesus wept) with 58% of the vote. Well done Billboard.com 2011 Readers' Poll voters.

Simon Cowell has been chatting about how Paula Abdul wanted to have sex with him "a million percent" when they first met, which is good to know. (The Hollywood Reporter)

George Michael is returning home to London, as he is slowly recov­er­ing from pneumonia. (Contactmusic) Note to George: it's fucking freezing here, try Egypt or Goa or somewhere.

Remove ornaments from the man­tel­piece, keep animals indoors, it's the bellowing duet we've all been waiting for: Kelly Rowland and Amelia Lily have been recording a song together. (MTV)

Nicky from Westlife is pretty annoyed that their Gary Barlow-penned raveathon 'Lighthouse' didn't exactly set the charts alight. (Daily Star)

And finally, in news that will have abso­lutely no impact on his humble ego, 'Pray' hitmaker Justin Bieber has been named the most searched for person according to the Google Zeitgeist 2011 list. (Ace Showbiz) But despite all that, and the money and the girls and the fame and success, do you really think he's happy? Yes, we do too.
THAT WAS some of THE NEWS.