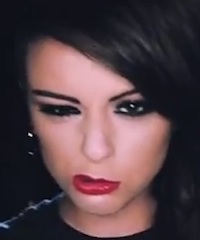 Cher Lloyd and friends have released a video for non-single 'Dub On The Track'. (YouTube) So much attitude! (But don't treat her like she's got attitude or she'll
cwy and cwy.) Judging by the YouTube comments section, it has got some dubstep 'con­nois­seurs' in a bit of a tizzy.

First she was popping bottles in the ice, now she's popped a baby out: Dev has given birth to a baby girl. (Contactmusic)

'According' to a 'study', the vocal stylings of Britney Spears and Ke$ha are changing the way some young women speak. (Daily Mail) Blah blah blah.

Kelly Clarkson is releasing an iTunes 'sessions' EP on December 27, which will feature "revamped" versions of her hits. (MTV) Don't panic, her Christmas cover of 'I'll Be Home For Christmas' will be included as part of the package, although the December 27 release date does make you wonder whether 'I'll Be Home The Day After Boxing Day, Make Sure You Put Some Clingfilm On The Turkey Leftovers' might be more appropriate.

There are some rumours going around that the fourth incarn­a­tion of the Sugababes may have been dropped by Sony. (The Prophet Blog) Mind you those rumours ori­gin­ally came from the Popjustice forum so who knows, right? Also, from what we heard (and a couple of people have confirmed this in the last twelve hours or so) they were only signed for one single, so rather than having been dropped it looks like RCA maybe just didn't pick up the option. It might all just be bollocks. Oh who fucking cares.

Another part of Michael Jackson has been sold at auction. This time, a gambling company has won some of his hair and are going to make it into a roulette ball. (NME) Well done everyone.

Rihanna was the most 'liked' popstar on Facebook in 2011, just ahead of Avril Lavigne, Lady Gaga and, er, Bob Marley. (Facebook)

Little Mix have made a video diary 'reflect­ing' on their first few days as X Factor winners. (Twitter)

And finally, The Wanted are going have a bash at making it in America, which in turn will be made into a hard-hitting, "warts-and-all" Channel 4 doc­u­ment­ary. (Daily Star)
THAT WAS some of THE NEWS.