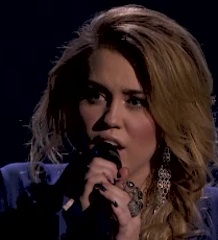 Miley Cyrus performed Joe McElderry standard 'The Climb' at CNN Heroes: An All-Star Tribute in Los Angeles. (CNN) Kid Rock also provided some sort of enter­tain­ment ('racket').

Perrie from Little Mix has ended her 'blos­som­ing' rela­tion­ship with Zayn from One Direction. (The Sun)

Ke$ha has released a remix of 'Sleazy' with a lot of rappers on it. (Complex)

Beyoncé would even­tu­ally like to have a large family. (Contactmusic) She also 'reveals' that she doesn't think she'll be "able to get rid of Kelly" now that The X Factor is over.

Nathan from The Wanted is going to be careful about what he wears this Christmas, as last year he scared his family by dressing up as an owl. (Daily Star)

This article provides a rundown on how 'Louboutins' hitmaker Jennifer Lopez reclaimed her throne "as a mul­ti­fa­ceted enter­tainer for the masses". (Billboard)

If you've got a spare $4.5m lying around, you could buy Rihanna's Beverly Hills 'pad', which has gone on sale. (CBS News) Be warned, it has a bit of a damp problem.

Lady Gaga doesn't want to take credit for the rise of dance music being played in the US. (MTV)

And finally, don't blame Nicole Scherzinger for last week's US X Factor deadlock fiasco: it was Paula Abdul's idea all along. (TMZ)
THAT WAS some of THE NEWS.