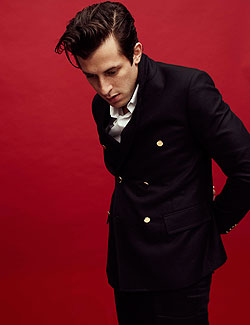 'Valerie' hitmaker Mark Ronson is per­form­ing at London's legendary (we saw the Sugababes there once) 100 Club in London next Tuesday (July 6).

It's going to be one of those things that is full of com­pet­i­tion winners, creates a 'buzz' etc etc etc. Intimate gig, maybe a special guest or two (that's just us spec­u­lat­ing but it's a pretty safe guess), that sort of thing.

To this end we — and probably every other website you'll look at over the next couple of days — have three pairs of tickets to give away.

We think the people respons­ible for giving the tickets away want there to be some sort of Twitter 'mechanism' — because that gets everyone talking right — so to enter this contest how about you send us a tweet to @popjustice and include the hashtag #spuri­oust­wit­ter­mech­an­ism in whatever you choose to tweet us.

Do this before 5pm today (Friday) please, thanks.

We haven't yet featured the video for Mark's new single 'Bang Bang Bang' — it's an extraordin­ary piece of work.

[youtube]PzE5dS6fnFk[/youtube] Nice of Su Pollard to turn up.