We went to a thing in Trafalgar Square last night. It was organised by Beck's Futures and the ICA. There was lots of stuff about it being "where music and art collide". Which is to say that it was a concert with a backdrop. On the way in we were given some 3D glasses.
Here's Calvin Harris without 3D glasses.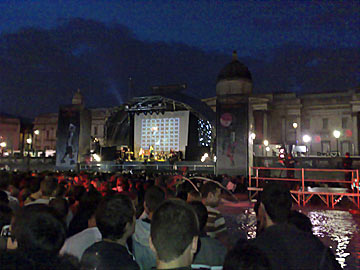 Here's Calvin Harris with 3D glasses.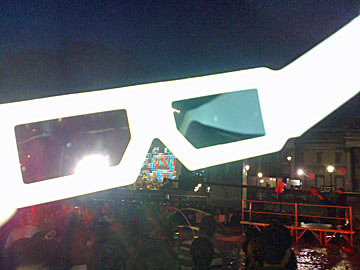 WOO!! AMAZING!!!!! IT'S LIKE HE'S REALLY THERE!!!!!!!
He did the DFS song and some others.
We saw a young lady popstar and her gentleman popstar friend outside. "Are you going in?" we said. "No, I'm here flogging my tickets," she smiled. In most instances we would have taken that as a joke but, where this par­tic­u­lar popstar is concerned, we think she was probably serious.
After Calvin, disco grandads the Chemical Brothers were supposed to be on but we went somewhere else and saw THE FUTURE OF POP doing a gig. We will tell you about them another time.