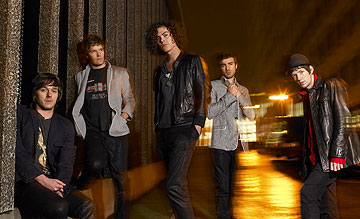 Yes, yes, we know what you're thinking: this is hardly a picture of a band who'd be on Popjustice if they weren't produced by Xenomania. Well we are men­tion­ing Vagabond again because we are now allowed to play you a clip of 'I've Been Wanting You', which is the song we mentioned a few weeks ago that actually sounds like it's been produced by the Xenomania we expect (/demand) Xenomania to sound like. This is a clip.
[audio:vagabondlongclip.mp3]
Good pro­duc­tion. Interesting 'Nickelback down the disco' vocals. Yes? Yes. And it's topical, too, because much like 'Hallelujah', we expect that decades from now pop experts will still be attempt­ing to unravel the true meaning of those complex, unde­cipher­able lyrics.
To be quite honest, since we made a fuss about 'I've Been Wanting You' being the 'best' (ie least pub band-sounding) song on the Vagabond album sampler, we've realised that despite its good pro­duc­tion it's not really up to much as a song and the best song is actually 'Don't Wanna Run No More' — don't tell your English teacher — which is very brilliant indeed and could end up being the sound of inde­pend­ent local radio until the end of time itself.