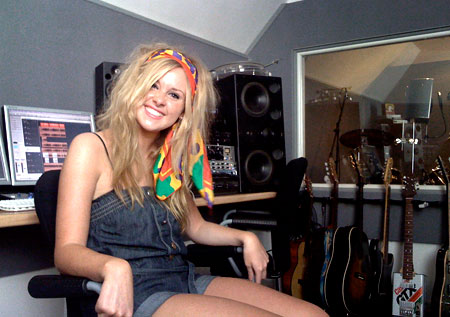 We went to see Diana Vickers 'in the studio' yesterday.
We met her once before, last year when we got quite drunk backstage at The X‑Factor and slipped into full-on com­pet­i­tion winner mode which involved a) request­ing that we were allowed to sit in the back of Simon Cowell's Rolls Royce, b) attempt­ing to steal a teacup from Dannii Minogue's dressing room, c) sitting in Cheryl's chair at the judges' desk during the dress rehearsal and d) accosting Vicko after­wards and demanding that someone took a photo of us together. The sort of stuff that totally explains why we don't get invited to things like X‑Factor launches. Things were slightly less demented this time round and Diana did a good job of talking us through what she's doing, why she's doing it and what it'll all end up like.
A sort of interview thing happened yesterday but the chances of that actually getting tran­scribed in the next week are fairly slim so here are some key findings that might or might not interest you: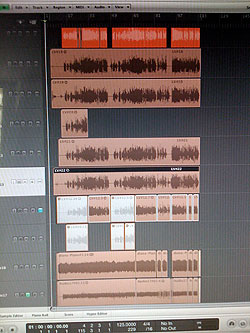 » As you probably know, she's signed to RCA. The first single will be out next year ("I don't want to compete for Christmas Number One when bloody Leona's coming out").
» People she's been co-writing and/or working with on the album include Ellie Goulding, Cass Lowe, Savan Kotecha, Starsmith, Alexis Strum, Guy Sigsworth, Nerina Pallot, Lightspeed Champion, "a really cool band I can't tell you about yet" and Chris Braide.
» Yesterday's catch-up took place at Chris Braide's studio so he and Diana played us three songs which are still works in progress. They were called 'Numb', 'The Boy
Who Murdered Love' (pictured), and something we can't remember. They're sounding pretty great so far and, as you can imagine from the title alone,
'The Boy Who Murdered Love' is all sorts of incredible.
» Her mum once had a super­nat­ural exper­i­ence while sitting on the toilet.
We'll get the interview up soonish.