2014 has been bookended by two key boyband moments.
In January, The Wanted announced that their banter­centric glory days were over, or nearly over, or at least likely to be over once they'd got their tour out of the way and done some more gigs for whoever wanted them regard­less of which members of the band were and were not available.
At the other end of 2014 we said goodbye — for now — to another UK boyband, Stereo Kicks, who left The X Factor last weekend.
In between all that 5 Seconds Of Summer blew up thanks to a load of great singles, One Direction released an incred­ible album so immersed in ideas of change, reflec­tion and the passing of time that it was pretty much the quint­es­sen­tial boyband farewell album, The Vamps trod water, Take That lost one member and McFly gained two.
But the Stereo Kicks debacle is the one that really boils our piss.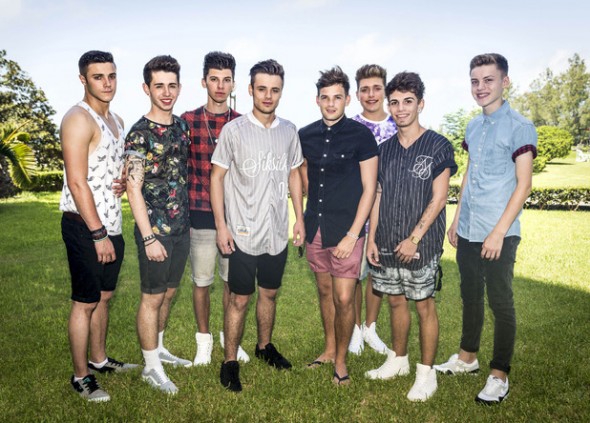 In 2014 the idea of an eight-piece boyband should (and easily could) have delivered something exciting, daring and unpre­ced­en­ted. And people were ready to like it. When X Factor octo­boy­band rumours first filtered through, the idea seemed audacious, ridicu­lous and genius in equal measure.
At the very least, an eight-piece boyband was a talking point. Everyone wanted to see how it would work. They just needed to be really good.
The reality was underwhelming.
It goes without saying that Stereo Kicks weren't exactly what you might call the greatest reflec­tion of multi-cultural Britain. But they weren't even a reflec­tion of multi-haircut Britain.
You could argue that there's some merit in putting together a band of inter­change­able members: dress them almost identic­ally and they could come across like an unstop­pable army of amazing pop rep­lic­ants, over­whelm­ing the planet with syn­chron­ised winks. That could have been a decent plan.
Actually, as became evident when The X Factor deployed increas­ingly desperate tactics in a fruitless attempt to establish each of the lads' indi­vidual per­son­al­it­ies — including a 'Spice name' incident so trite that Mel B should have walked off the show — the eight-headed pop monster idea hadn't been the plan at all. It was an accident that the lads were so similar. It was also a mistake. Basically, the chaps in the Stereo Kicks lineup weren't similar enough to make sense, but they weren't different enough to make sense either.
Stereo Kicks could have been two Ed Sheerans, a Rizzle Kicks, and a Union J. Their per­form­ances could have been multi-act, multi-genre extra­vag­an­zas. Stereo Kicks could have been more of a col­lect­ive than a boyband, with members appealing to all sorts of fans and sub-units splin­ter­ing off all over the place.
They were none of that. They were eight boys standing in a line singing the same song, and their best singer couldn't bang out a decent note without pulling the sort of face most people reserve for thumb-up-the-arse ejaculation.
Even if their immediate future is uncertain there's probably a decent amount of money to be made from Stereo Kicks, but the endorse­ment oppor­tun­it­ies — just like the band's per­form­ances and fanbase — could easily be limited by the uni­form­ity of the band's members.
(Maybe we're just annoyed they didn't use any of our name sug­ges­tions.)