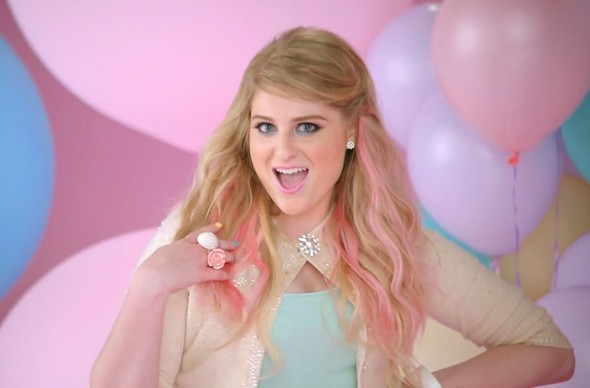 We were quite into the idea of Meghan Trainor as a new inter­est­ing popstar. When we inter­viewed her, she was certainly enter­tain­ing.
This said, we were slightly con­flic­ted earlier this year when we included 'All About That Bass' in a feature we wrote about novelty singles.
Maybe, we felt, it wasn't really a novelty single. Even though it ticked a lot of novelty single boxes, the jury was out. But as time went by, the single went on to tick one of the biggest novelty boxes of all: the one that states that the artist behind a true novelty single will follow their first surprise hit, a few months later, with a song that sounds almost identical but is about 15% as good.
Even the video for 'Lips Are Movin'' was a crap version of 'All About That Bass'.
The rest of the EP she released in America was rubbish as well, so it's not looking good (even if she did write this amazing non-single), but there's an album out at the start of next year so perhaps that'll move Meghan well away from the doo-wop and on to the next phase of her career.
Mind you, that album does include tracks from the EP.
Confused? Allow this section of the Wikipedia entry for Megan's album to clear things up.
Everyone got that? Good.