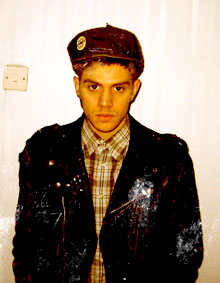 Today's Song Of The Day is 'Teenagers', a sparky little pop tune by new artist Japayork. You can hear the whole thing on his MySpace.
There is another song, 'Our Now', being 'serviced' to the blogzzz (MP3 download here) but 'Teenagers' is better so that is why it is Song Of The Day.
A week or two ago we asked 'Japayork' to explain why he is amazing. This is what he sent back.
1. I'm excellent with a microwave!

2. I'll beat you at airhockey!

3. I own a few Thin Lizzy records!
4. I look good in anything with sequins!

5. I'm from the future!
Well to be honest readers there are a lot of exclam­a­tion marks there but only Point 5 is something we consider to be a 'required element' in new popstars and we're not sure even that claim will stand up to scrutiny, but let's see how this one pans out. In the meantime, we'd like to add a further five points to this.

1. He has some good pop 'numbers'. As we mentioned in our Song Of The Day writeup 'Teenagers' in par­tic­u­lar is one of those "let's just have some fun even though everything's a bit shit" tunes that makes pop music so much more bearable.
2. He looks quite a lot like a
popstar although not in the photo we have used to accompany this
article. CHEER UP MATE THIS IS SUPPOSED TO BE FUN.


3. There is a video for that 'Our Now' song, which you can watch here on BigStereo. Pleasant as it is it could really be a video for anything so we don't think John Landis has got anything to worry about the next time some bunch of space-filling bellends decides it's time to compile yet another Top 100 Music Videos Of All Time list.
4. Japayork will take a bit of getting used to as a name, won't it.

5. Look, Japayork must be at least quite good because he
is on the verge of signing a Proper Record Deal and Proper Record
Labels don't sign any old shit, do they? ("Yes, every day of the week"
— The World.)
And there, as someone once said and how right they were, we have it.