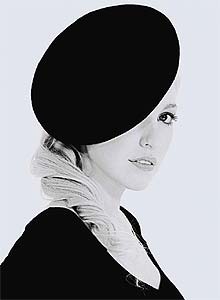 "

I HAD TO DARE TO DANCE…"

An intro­duc­tion to Norwegian popstar Margaret Berger…

Who the hell is Margaret Berger? Well, she is a Norwegian popstar with a sur­pris­ingly decent album to her name.

Here is a very thorough Popjustice invest­ig­a­tion into Margaret Berger and the life and times of…

Questions: Peter Robinson
Answers: Margaret Berger (obviously)

Hello there Margaret Berger. Are there any sim­il­ar­it­ies between you and John Nettles seminal Guernsey based detective, Bergerac?
I did once consider being a pilot but never a detective. I had periods where I wanted to be a hairdresser or a girl on a plane, a stew­ard­ess, all the regular girl dreams.

Are you respons­ible for Berger On The Dancefloor?
I do try to move about a bit. I wouldn't say I was good at dancing. You have all these American acts that are so good at dancing like Britney, Justin and Beyonce and I just decided that I had to dare to dance because my music is in that genre where it is a nice thing to have dancing in your videos.

Do you suffer from debil­it­at­ing social illness AsBergers syndrome?
I'm not very good with names actually. I wish I was a little bit better because, not to sound stuck up, but when you are a bit famous people tend to remember a meeting with you better than you remember meeting with them. So they are like, 'don't you remember me?' and some people get offended when I don't.

Is she on the Berge or a nervous breakdown?
I did have an incident where I realized that if you speak your head out people are going to have an opinion. I once overheard some girls talking about me in the toilets, I was listening to them having a really horrible con­ver­sa­tion about me. Of course girls do that but I just realized that this is just something that happens.

Has she ever been the victim of the criminal act of Bergerlry?
That doesn't happen a lot in Norway. In the biggest parts of Norway, out in the coun­tryside it is very safe, mainly because there are not many people and those there are have jobs and money and they live a good life. There is a lot of crime in Oslo but it is a safe city if you know where to go.

Can we blame it one the Berger that the album is not coming out in the UK?
I do have a UK producer and he has some con­nec­tions so I would like to bring it out in the UK. We think that my CD could do well in other countries other than Norway. There are a lot of artists in Norway now but the record sales here are down, but I know it is hard to get into the UK charts, espe­cially as a Norwegian artist. We're planning to come over and play some gigs though.

How does she feel about the homo­sexual act of Bergery?
I have always had a big gay following, I don't know why! I have always been into clothes and dresses and opinions and I think that appeals a bit to the gay society. And disco as well, disco music!

Thank you very much Margaret Berger.