The Popjustice A‑Z Of 2006
Well what a year it's been, eh readers?
Here's some of the stuff that happened, in an alpha­betu­lar fashion…
A

AT THE END OF THE DAY IT'S FOR CHARITY
Peter and Jordan's 'A Whole New World' was one of the most terrible songs of 2006, but it did have a certain 'charm'. And as they mentioned 'once or twice' during the promotion, it was all for charity.
If you ask us they should instead have released the out-of-tune MP3 which was doing the rounds (and DEFINITELY WAS NOT THEM AND WAS A FAKE). They should have performed it live. It would have been hilarious. More import­antly, the song would still be Number One now — and Peter and Jordan would have raised a lot more money for charity. Didn't they want to raise money?
B

BBC, FUCKWITS WORKING AT THE
Do you remember Top Of The Pops? It was a very good tele­vi­sion programme in the olden days. Unfortunately the BBC managed to bollocks it around so much that it became not so good after all and, in 2006, they finally killed it off, leaving a website (which they also killed off) and a magazine (which is still knocking around) and a thing called 'Top Of The Pops 2', which they ended up turning into something quite close to what the original Top Of The Pops was in the first place.
It was an almighty shitshow. Still — at least we've still got Jools Holland for all our Kooks-'n'-Paul Weller needs, eh kids?!?!!!!
C

CHARTS, NOBODY HAVING A CLUE WHAT IS HAPPENING IN THE
"New entry at Number 9!!" "Is that on downloads only?" "I don't know!!" "Well I don't know if that's good or bad then!" "Neither do I!" And so on. Making the charts more relevant is all very well, but what happens when doing so actually makes them worthless?
Woolworths weren't very bothered, at any rate — by the end of 2006 they were flogging singles out of a CARDBOARD BOX in much the same way that you might expect to buy CD singles at a car boot sale except, of course, without the selection.
D

DANCING, WE MIGHT FEEL LIKE DOING THAT BUT WE'RE NOT KEEN ON BUYING YOUR ALBUM
Poor The Scissor Sisters.
They made an album when nobody liked them, then everyone liked them. Then they made an album for everyone who liked them, and it all went wonky. We are not pointing any fingers here by the way.
E

"EXCUSE ME, CAN I BRING SEXYBACK?"
"No you cannot, Justin Timberlake, it has clearly been worn and there is some slight staining."
The old ones are literally the oldest ones, eh?
F

FINAL FLING
Do not worry about Britney's dodgy partying exploits as 2006 draws to a close. She is in complete control. She knows exactly what she is doing and there is no need for you to be concerned. She is just getting it out of her system before she becomes a popstar again in 2007.
G

GETTING ON WITH IT AND ABOUT TIME TOO
Kylie is back. The new track she's been per­form­ing on tour — it's called 'White Diamonds', fact fans — is amazing. You can watch a clip of it here.
H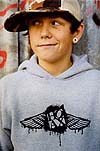 HELLO LIL' CHRIS
At the beginning of 2006 you might not have guessed that the world needed a three inch tall popstar.
And yet, 'Little Emo Chris Hardman' showed Bono A LOT about being a brilliant rockstar and also about how to always wear a sideways cap.
I

IDIOTS, THE RECORD BUYING PUBLIC BEING
Hello. What Maria Lawson released this year was quite good. What Alesha released was very good. Well the second one def­in­itely was. What Jamelia released, well quite frankly that was fucking amazing. We won't even mention Frank, Matt Willis 'et al'. Perhaps no one is inter­ested in good popstars releasing good records. Not when there are Lazytown singles to buy.
J

JUST IN TIME FOR THE END OF THE YEAR ROUNDUPS
The news story of the year is obviously a Cheeky Girl running off with an MP.
K

KANGAROO ANUS BEING EATEN IN ORDER TO ACHIEVE A TOP 20 HIT
Emma Bunton got off lightly with her nice dress and fancy footwork. Matt Willis slept in a hammock for two weeks and ate a kangaroo's bumhole and still couldn't get in the Top Ten.
Poor Matt. :(
L

LOOK. ALL THOSE OLD BANDS ARE BACK
Take That did very well in 2006, All Saints did reas­on­ably well in 2006, East 17 didn't do very well at all in 2006 and Five invited us to a press con­fer­ence where they came up an escalator in a shopping centre, announced their comeback, then said nothing else about it when they realised nobody was interested.
The 2006 charts were like a year long Radio One roadshow except everyone looked a lot older and a good deal angrier than first time around.
M

MAYBE THIS ISN'T THE FUTURE OF EVERYTHING IF 'THE FUTURE OF EVERYTHING' IS JUST PUTTING A STICKER ON THINGS YOU BOUGHT FROM MAPLIN ELECTRONICS
The Keane USB single was just a memory card with a Keane sticker on it. There was something written on the other side too. That said 'Kingmax' and you'd have thought they'd have covered it up. They didn't.
N

NO MORE DARKNESS, ONLY LIGHT
Remember all that 'ROCK IS BACK!!11!!' crap Cat Deeley was spouting at the Brit Awards only two years ago? When The Darkness won all those trophies?
It all seems fairly whimsical now, at the end of the year in which the band and its big baldy frontman fell apart. Of course, now the threat is over songs like 'I Believe In A Thing Called Love' and that Christmas one they did all seem like quite harmless pop fluff. But we must never forget what we have learned from all this. A quite old man in a leotard does not a pop star make.
O

OH SHUT UP ABOUT THE FUCKING INTERNET SANDI THOM
The truth behind all this is that Sandi is still in her Tooting dungeon and, having given up on trying to plug a scart lead into her bloody guitar, she still knows nothing about 'webcasts' but does have quite a high score on Minesweeper.
P

PUSSYCAT DOLLS ALBUM, EIGHT MILLION SINGLES FROM THE
And amazingly they kept getting better.
Or perhaps we were just becoming slightly delirious at the sight of that woman with her hood up doing the splits every thirty seconds.
Q

QUEEN OF 2006, THE UNDISPUTED
A lady who knows everything there is to know about pop music but still ploughs ahead with Upper Street records, The Undisputed Queen of 2006 is the first lady of Concept Records, Roseann McBride. This woman deserves her own TV show immediately.
The show will be called 'Always McBride-made' and it will be about Roseann making a band. Once the band is in place — that's the doc­u­ment­ary bit — it'll go to the 'live shows' in which, over a period of ten weeks, she will stand opposite the band on stage telling them how shit they are and how nobody will buy their records. The band's first single will be released at the end of the series and if it goes Top 40, Roseann will have failed.
R

ROBBIE TURNING IT ALL AROUND TO BE GOOD AGAIN AND SELLING TWELVE CDs IN THE PROCESS
It was not Robbie Williams' fault that he chose to release the most creative album of his career at the same time as Take That released something full of ballads with Jason Orange singing about a boat.
'Rudebox' is the best album of Robbie's career, and while we don't have any figures in front of us (AT TIME OF GOING TO PRESS ETC) we imagine that even 'Intensive Care', which was shit on a stick, sold better.
S

SURPRISINGLY DISCERNING, THE RECORD BUYING PUBLIC BEING
Much like the Queen of Pop 2006, the record buying public wisely avoided the Upper Street single. Also avoided were Emma Bunton and Janet Jackson albums and ballads by Pink and Christina. Actually while we're on the subject that Christina album has to be the most pompous and humour­less so-called 'pop' album of 2006. Lighten up, woman!
T


(THAT'S ENOUGH OF THAT — ED)
Smash Hits closed down this year. It was probably past saving but still sad. Is there room for a pop magazine to launch in 2007? Let's do a little roleplay.
Publisher: Hey kids! Here's a new magazine.
Kids: What's a magazine?
Publisher: Well, it's like a book…
Kids: Oh piss off.
Publisher: No wait! It's in full colour, and you can read it on the bus on the way to school…
Kids: We read our text messages on the way to school.
Publisher: Okay — well we've mocked up a magazine to show you. Take a look at THIS!
Kids: Where are the videos?
Publisher: What?
Kids: Where's the button to press play on the videos?
Publisher: Well, no, you see these are just photographs…
Kids: We've already down­loaded all these pho­to­graphs from the internet. How do we use this to talk to each other?
Publisher: Well, there's a letters page…
Kids: How do we know when our friends are reading the same magazine?
Publisher: Well, you don't…
Kids: Hang on, this still says that Ray might win X Factor…
Publisher: Well, you see we had to write this last week because it takes a long time to print onto paper…
Kids: But shouldn't that have changed to say Leona by now?
Publisher: You can't change it — it's printed on paper!
Kids: So it doesn't update?
Publisher: Well, no, but… Well anyway. How much would you pay for this magazine, do you think?
Kids: Pay? You have got to be fucking joking.
U

UNEXPECTED VICTORS IN GIRLBAND BATTLE
Nobody expected Girls Aloud's Greatest Hits to outsell the Sugababes col­lec­tion but that is EXACTLY what has happened. Meanwhile Sugababes' cred­ib­il­ity — for a long time this has been their greatest asset — is at an all-time low.
Is it all over for the Sugababes? Perhaps, but not as over as it is for All Saints. The most exciting thing about the events of the last two months is that while Girls Aloud may have started off looking a bit tired and ready to pack it all in, they finish 2006 energised and vin­dic­ated, making a new album in 2007 seem a little more likely…
V

VERY GOOD RECORDS MADE BY TIMBALAND
These include 'Maneater', 'Sexyback', 'Wait A Minute', 'Icebox' and some others. Of course the great man is now poised, cock in hand, to piss it all away in the new year by releasing his own album — and his own albums are never very exciting — but idiocy is the prerog­at­ive of a true genius, eh viewers?
W

WHAT A GOOD YEAR FOR MARK RONSON
Three of our albums of the year — Robbie's 'Rudebox', Amy Winehouse's 'Back To Black' and Lily Allen's 'Alright, Still' — include Mark Ronson pro­duc­tions. At the start of the year he also turned in the Radiohead cover 'Just', which hints at what his next album 'Version', due next Spring, will sound like. The few tracks doing the rounds already qualify 'Version' for potential album of 2007 status.
He's probably working with some more people for 2007 too but we haven't really looked into it so your guess is as good as ours.
X

X FACTOR WASTING EVERYONE'S TIME AGAIN
Although we did enjoy watching Eton Road. (NB: People saying they enjoyed watching Eton Road be hopeless on the telly is NOT 'carte blanche' for a record label to sign them on the flimsy premise that 'boybands are back'. Boybands are not back.)
Y

YOU ARE NOT ALLOWED TO NOMINATE GIRLS ALOUD FOR NEXT YEAR'S POPJUSTICE MUSIC PRIZE
Girls Aloud might find them­selves shunted off into the 'highly commended' category at the 2007 Popjustice Music Prize awards, because things have gone too far with their third win this year (for last year's 'Biology'). The awards have only been running for four years.
Z

ZOO, PUT THESE PEOPLE IN A
Razorlight.
Well that's that. What were your favourite events of 2006? Email us and let us know…