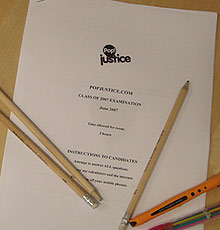 THE POPJUSTICE CLASS OF 2007
Download your exam paper now…
To become a member of the Popjustice Class Of 2007 you are required to sit a two hour written exam. You may sit the exam at home or wherever you feel most comfortable.
You will be tested on com­pre­hen­sion, general knowledge, math­em­at­ics and various other topics.
Download the exam paper by right-clicking the link below.
Feel free to forward the exam paper to friends and colleagues.
Once you've printed your paper off and filled it in, mail your completed paper to:

CLASS OF 2007
POPJUSTICE
31 CHELSEA WHARF
LOTS ROAD
LONDON
SW10 0QJ
Closing date is June 15 2007.
UK students will receive their results by post, overseas students will receive their results by email.