Will Young's got a new single and album out so he has to talk to journalists for interviews like this even though he'd probably prefer to be doing something else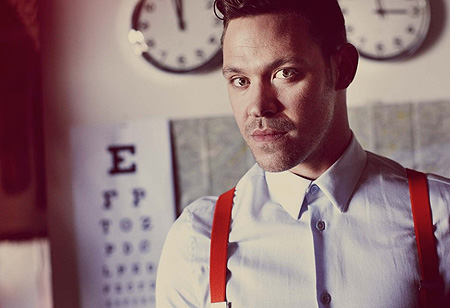 Questions: Peter Robinson
Answers: Will Young (obviously)
Will.
Hello.
How are you?
I'm a little bit hungover.
Where did you go?
Er, well I was in the edit for my TV special…
'In the edit' — technical term there.
Yes, technical term. Yep. Just dropping in some lingo there. 'Doing the VT'. (Grandly) TEN YEARS IN THE BUSINESS! And then I got far too over­ex­cited and went round my friend's house and got drunk. In the garden.
It wasn't very warm last night.
No, it wasn't that warm. So I managed to cosy up in one of her fleeces.
And booze does have a lovely warming effect, does it not.
It does. Even more so this morning, when I'm getting inter­mit­tent hot flushes.
Are you pregnant?
I am! AGAIN! And I don't even know how it happened…
If you get drunk, Will, these things do happen…
(Laughs)
Have you been to bed yet?
Oh yes, I've been to bed. I woke up this morning with things splayed around my bed. Like suncream. What was I doing with suncream last night?
What were you doing with it? Is this a road we don't want to go down?
I wasn't doing ANYTHING untoward. And that still leaves a whole window of dis­cus­sion open, about what can be done with suncream. So yes, on my bed: suncream, laptop, toothbrush.
It sounds like you might have booked, and started packing for, a citybreak.
I've so booked a citybreak. To Luton!
Well a lot of people go to Luton and the first thing they do when they get there is fly off somewhere else. Why not just soak up the chilled out Luton vibes? Enjoy the sights!
Exactly! You don't have to fly from Luton. You can just be IN LUTON. I think I could save Thomas Cook with these ideas.
It's 9:30am. Usually being first inter­viewer on a long day of inter­views means you get someone when they're at their best. Yet in this instance your Popjustice interview has been scheduled to coincide with a stinking hangover. Maybe lunchtime would have been better?
YES! I'll be on a major high around lunchtime. Sorry about that.
What are you dis­cuss­ing in your inter­views at the moment? Are people asking you about music, or is it mainly people asking you what you think about other people because talking about other people makes you more quotable, or…
That's a good one, yes. I get asked about Simon Cowell a lot. And they normally want me to say something nasty, so then they can say "WILL YOUNG SLATES TV TALENT SHOW JUDGE". "IT WASN'T MY BABY, SAYS SINGER." "I NEVER LIKED BLACK TROUSERS." (Cackles) Do you know what I mean? Things like that. And what else… (Thinks) Who's current at the moment? I'll tell you what, I'm sad that my release schedule meant that I missed the Royal Wedding.
Well we could briefly pretend that it's still to come, if that would please you.
OH GO ON GO ON!!
Er… Are you looking forward to the Royal Wedding and have you been invited?
I haven't been invited and I'm really, REALLY pissed off. I feel like I'm posh enough to go.
You should perform there.
Never mind that, I should be the VICAR! I am actually tech­nic­ally an ordained priest. I did it online with a friend. That was another drunken night.
To be honest that sounds like one of your video treat­ments. One of your whimsical, well, how would you describe your videos? There's a feel to them, isn't there. What is that feel?
How would I describe… What video?
All of them. They've all got the same feel.
Self indulgent? (Hoots)
Oh you know, it's 'here's likeable Will Young, here's something vaguely nostalgic and pensive, here's some whimsy, here's a narrative involving some task that requires com­ple­tion', you know what I mean…
Yes and there's something a bit, you know, there are varying scenes running through so you can take it how you want it. A bit kitsch, maybe…
Is there also an element, at all, of 'ideas Robbie Williams said no to'?
(Guffaws) Probably, yes! I think Top Gun was probably an idea he said no to. And appar­ently Kylie Minogue said no to Blue Peter.
I'm going to ask you a question that I've written down.
Okay.
I've got, written down, "tickets to come and see you on your tour are about forty pounds. Are they made from solid gold?".
(Howls) They can't… Are they FORTY POUNDS? I thought they were about twenty five quid!
I'm on the Live Nation website right now. I'm looking at tickets for the Bournemouth International Centre. £40.25.
God that's a bit of a ripoff, isn't it? I haven't even gone into rehears­als yet, I'd better get on with it. I'd better get some trapezing in there!
I don't mind paying £40.25 if there's going to be explo­sions and dancers.
God, no, it was just going to be me and a ukelele. Oh God I'm going to have to com­pletely rethink the whole thing!
Maybe I'm trapped in some sort of secondary ticketing market hell, perhaps they're not really forty quid?
I hope you are.
Hang on… Right I'm on Ticketmaster now. Here we are.
Go on, how much are they on there?
I'm looking at Bournemouth International Centre again.
Go on.
This is taking a while. (Page takes a million years to load) I think this is def­in­itely interview time well spent.
Definitely.
Now it's asking me to do a security check.
You're never going to pass that. I'm eating muesli while you do that.
What kind of muesli?
Nice muesli.
What are your thoughts on the Alpen debate?
I went through a real phase of loving Alpen. I used to love any cereal. Now I have moments of nostalgia so I might go for Honey Nut Loops, for example. Ready Brek? Amazing. Farley's rusks? LOVE Farley's rusks. They're for babies, obviously.
Ticketmaster have delivered the goods. Upper Balcony, Row S. How much do you reckon?
£35?
FORTY POUNDS AND TWENTY FIVE PENCE. That's for Upper Balcony, Row S.
(Unconvincingly) Well that's a good seat though isn't it. In the theatre that would be at least eighty quid!

I have a problem with the theatre. I don't like people acting in front of me. And when they reference the audience, I mean I know it's all about taking down the fourth wall and everything but I want that fourth wall to be there. And I want it made of bricks.
(Laughs) Oh God, you're one of those people who goes to a gig and watches it through their phone, aren't you?
I try not to spend too much time doing that. I mean, fair dos, you're at a concert and you want to take a couple of pictures or bits of video because it's nice to have your own record of the night even though they never come out properly. But the people who film the whole thing — from the front row…
It's really weird. I saw someone at a Madonna gig a few years ago — which was an incred­ible gig, when Stephen Klein did all the shots for it — and this woman watched the entire show through the screen of her digital camera. I bet SHE'D pay £40.25 to watch my gig through a camera. I need to market my whole tour at her.
Well the thing is, as well as the ripoff pricing which is a bit of a Ratner moment but not to worry, as well as that you could also be flogging those Golden Circle sort of tickets that people do.
Those 'pay £120 to come and have tea with me' things?
Yes.
No, I don't do those. But I do do meet and greets with com­pet­i­tion winners, or charity people.
'Charity people'?
Well you know, they've won a competition…
'Charity people' sounds like the sort of phrase we're not supposed to use in these enlightened times…
No it sounds like, er… No I didn't mean it like that. Not like an interview that was in the Guardian where someone said something about, well, I won't mention or you'll put it in, but I'll tell you after we've finished the interview. Um… Yes. No. Basically I don't do golden tickets. I'm not Willy Wonka!
What would be a reas­on­able price to charge for a meeting with Will Young?
(Laughs) A pint of beer? I'm fairly easy to be honest, on all levels. I'm a little bit of a dis­ap­point­ment — I remember right back at the beginning someone ran a com­pet­i­tion to hang out with me at one of the Saturday morning TV shows and the girl was really upset when she met me because she asked me what hobbies I had and I said (starts howling) I was really into BIRD WATCHING! (Cackles) I think she wanted to go and meet Gareth after that. I actually caught her mouthing, to someone else, 'he's such a loser'. (Laughs) And she had to spend all day with me!
When I first got into music the stuff that had been Number One ten years earlier — well, even three years earlier really but def­in­itely ten years earlier — seemed like music from another planet. It that stuff from the late 70s, like punk or whatever, certainly seemed like nothing to do with the music I was buying, even if looking at it all now you can see how everything joins up. But the point is that popstars from a decade earlier seemed like they had nothing to do with me. And I'm wondering how you feel you fit in for the Nando's gen­er­a­tion. You're like the Sex Pistols to them.
(Laughs) I'm probably more like Nanette Newman!
But — in the nicest possible way — are you nothing to do with their lives?
Young people now?
Ten, twelve years old…
That's not true! I disagree with you. I'm always amazed when young kids up and know who I am. But they do.
Do they not know that you're old? Maybe your cherubic features and motion­less hairline have fooled them…
Well I can tell you that my features are def­in­itely not cherubic this morning! I think it's just the fact that my name's Young.
Simple as that.
Yes! (Laughs)
Those screen­grabs that were sent out from the 'Jealousy' video were a DISGRACE.
That's not my fault, that's the director. I wanted to run through a field of lavender but they wouldn't let me! I said, 'five grand budget, Vaseline on the lens, I'll run through my parents' garden, how's that?'. They didn't want it.
Well there's always Single Two. Depending on how 'Jealousy' does the five grand budget might be more appealing to the label after all…
No, we're alright, I think we've already got a healthy budget for Single Two.
And you're still sort of on RCA, is that right?
Yes. Yes I am.
But this is your final thing for them, yes?
For the moment, yes.
It seemed like your Greatest Hits was the final thing. But it wasn't.
I don't know why it went that way round, I can't remember. But I'm glad it was this way round because I don't think I would have written this record if it had been the other way round.
Why not?
Because it gave me more space. 'The Hits' I didn't really have to think about — they'd all been done before — so that gave me more time to work on this record. I don't know why, but I didn't feel any pressure with this record.
Is the pressure slightly off because your most recent stuff hasn't exactly been a run of multi-platinum Number Ones? Is it, maybe counter-intu­it­ively, easier to follow up a flop than a hit?
Well I don't think so because in a career… Well, my last studio about reached Number One or Number Two, 'Changes' was a Number One on airplay and that was without Radio 1. It depends how you measure success really I suppose, and I don't mean that in well-media-trained sort of way. I didn't sell as many as 'Evergreen', but I was really proud.
'Evergreen' was an amazing song.
'Everygreen' was an amazing song. But yes, I don't know what it was. I don't know…
Some stuff happened, it was good, The End.
I think I'd paid my mortgage off, that was probably it! (Laughs)
How amazing do you think you are?
Sometimes I think I'm really amazing. Sometimes I think I'm horrendous.
Does whether other people say you're amazing make your own opinion on whether you're amazing differ?
Oh big time, yes. Yes. I'm VERY needy. For example in the edit — there I go again with my lingo — the director, my friend Michael, said, 'we're going to have to change that shot, you're not in the centre with the dancers'. And I was like, 'no, I hit my mark'. And Michael was like, 'Will Young hit his mark, it's just that all sixteen pro­fes­sional dancers missed theirs?'. And in my head I was thinking, 'yes, that is correct'. (Laughs) Do you know what I mean? I kind of work on that level.
After ten years what's your coping mechanism for people shouting YOU'RE SHIT at you on the internet?
I just don't look at things on the internet. I don't under­stand why people do.
You're on Twitter.
I am on Twitter. I'm dreadful on Twitter.
You're not as good as I thought you'd be actually.
I know what you mean. I just don't get it. Sorry. I don't quite get it. I do have a bit of a phobia of the internet because people can say anything. And I worry that people won't get my jokes, and then I'll say something and people are like, 'OH WILL WHY WOULD YOU SAY THAT' so I'm just like, 'oh, I'll just post a picture of a sheep every now and again then'.
The pictures are good. I was just hoping for more in the way of bon mots.
Yeah I know. But it's like, I do have comments and obser­va­tions, but I feel like… I can't get my head around the egot­ist­ical thing. It's like, 'how important do you think you are?'.
And how important do you think you are?
Not very important! (Laughs) Not very important at all. I am not a heart surgeon.
I don't want to listen to a heart surgeon singing songs.
Good point.
*