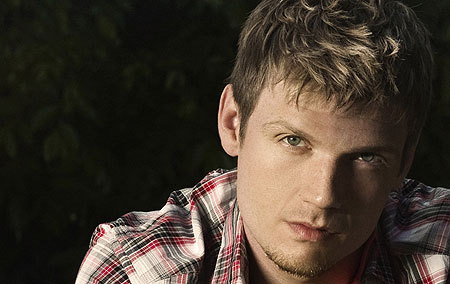 Questions: Peter Robinson
Answers: Nick Carter (obviously)
Hello Nick!
Whazzzup!
Here he is! How are you?
(Ludicrous Dick Van Dyke-style approx­im­a­tion of English accent) 'Hello!' (Chuckles at length)
Do people actually still say 'whazzzup'?
I don't know, but I still say it. I need to get a little more current, huh?
Perhaps it's good to bring these phrases back, because bands have revivals. Perhaps it makes perfect sense for catch­phrases from the late 90s to make comebacks.
What do people say instead, though? If not 'whazzzup'? That's the question.
'Hello'. But that prompted you to say it back in an English accent, taking the piss. It's impossible to win.
'HAHLOW'.
Yes exactly, well done. Where are you?
I'm in Los Angeles.
Are you just basically sitting in a room doing an entire day of phone interviews?
Pretty much.
That sounds like great fun Nick, that must be a great pleasure for you.
It's a lot of fun.
No it's not. So anyway you've a new album. And a new single! Produced by RedOne! Unbelievable scenes.
Yeah, it was great. It was great working with RedOne, him being from Sweden, there were good vibes from the past everywhere.
'The past' being a handful of different tun­e­smiths from Sweden.
Yeah, I mean RedOne was actually kind of like a big fan of us at the beginning, and always wanted to be on our album. It was really cool, it was just funny how time goes by when certain people rise to the occasion, and it's their time to shine. It's just funny how life works.
It works like that with producers but also with artists – you see people coming up and then going down, then moving in and moving out of shot.
It's really cool. Who's to think that a boyband can last?
Well Backstreet aren't really a boyband any more, are you – there was a point when you went beyond being a boyband, and just became a thing that was there. In the same way that your initial idea of a band's name fades with time as you get used to it, so you find that bands, if they stay around long enough sometimes shed their original skins and just become accepted as just being there.
Yeah. I think that's what kind of happens. I love bad names and good bands. You could totally change someone's per­spect­ive just based on music. It could be cool — you could be like 'oh they're really cool, we like them' or 'we didn't like them at first because of what their name was'. It's funny, music is one of those things on this planet that has free rein to change anything.
Well music can make you sad then make you cry, for example.
Exactly. I think music needs more credit as med­ic­a­tion. They were doing studies on that recently. They're trying to use it even more for healing purposes.
If you were a doctor and someone came to you and said 'I've got an embar­rass­ing rash', which song on your new album would you prescribe to sort out the embar­rass­ing rash?
I wouldn't choose any song on our album, but I would play Johnny Cash's 'Ring of Fire'. I tend to feel that that song was not written about a love story.
Is there a good cryable ballad on the new Backstreet album?
Yeah, there is. We went a little more 'dance' on this album, although we do have a few really great ballads and love songs.
Obviously, each Backstreet Boys album has to have its defining ballad, whether it's kind of 'Climbing The Walls' , or 'Drowning' or whatever. What's the big ballad on this album?
To be honest with you, we're still in the middle of picking the songs, but there is a song that's called 'Shattered'. It's touching, it's very similar to 'Drowning' and all those other songs.
It sounds like quite an aggress­ive metaphor. You're big on those. 'Drowning' — you're drowning. 'Shot straight through the heart' — that's obviously quite painful. 'Shattered' – ouch. Love hurts, Nick.
It's typical, you know. We're relishing love songs, I don't know how it happens. At least we're not doing the 'Unforgivables' and 'Unbreakables' and 'Inconsolables' and the '-bles' anymore. We're over that stage.
Are there no '-ables'?
There are no '-bles' anymore.
You said that the general feel of the album is more upbeat this time. Has Red One been working across the whole album, or have you been working with different people?
He wrote three songs for us. He just delivered amazing songs that we thought were great and current and fresh. You know what's funny though? Even though he's worked with Gaga and all these big artists, he was such a big fan of the Backstreet Boys… He really tried in the very beginning, when he started to write songs that could go on our album. He studied us, and tried to write songs for us.
That must make a big dif­fer­ence for you, because one of the problems with someone like him who's extremely hot in a 'hot right now' sense is that they will turn in songs that, really, sound like they might have just been knocking around in a drawer for five years.
I went after Red — me, per­son­ally. I got hold of him through Akon's camp. We were like, 'okay, we want to work with Akon'. They were like, Akon's really busy, maybe you could work with RedOne, and I started listening to his stuff, and the Lady Gaga record, and then I went after him. I was like 'dude, you GOTTA do this album, come on, please please please'. You know, begging him. He said 'yeah sure, but I need to figure it out first, I need some time'. I sat back and thought 'this guy doesn't want to work with us'. But then, after getting into it a little more, he came back and said 'dude, I just needed some time, because I wanted to come with the right Backstreet Boys record. I was such a fan of your music that I wanted to make sure it was truly who you were'. And he did that.
It's inter­est­ing, isn't it? It's great when people — quite early on in their career usually – still really care about stuff.
I think that's what's good about this situation is that we have to make music that sounds like us. We've put ourselves in a little bit of a hole where people don't really want to listen to us unless it sounds familiar.
So they want the Greatest Hits, but you want to continue making new music, don't you? You need to sort of move on while staying the same. Does getting involved with the writing help makes sense of that?
Well, we wrote some stuff with T‑Pain — 'International' — which is a really pop song, but it's really cool, I like that song. And he did another song for us, what's it called… (Sings and mumbles) Yes — 'She Can Dream'. I like that song, but I don't know if it will make it on the album. I had a lot of the influence on this album. What I did was that I went out and pursued producers who would help us get back to the top again. One of those producers was Jim Jonsin. Jim Jonsin was a little bit more an R&B/hip-hop producer, but he crossed over. He's really well known in the hip-hop world — he worked with Lil' Wayne and TI. He did 'Whatever You Like' for TI, he did Little Wayne's 'Lollipop'. A lot of stuff that really worked good over here. And there was another guy named Jordan Omley who we worked with as well in the very beginning on a song with Ryan Tedder called 'Undone'. So we did a song with Ryan Tedder on this album as well. One song is called 'Helpless', featuring Pitbull. It's a pop-dancey song, but it's really fun. And then we did some other songs like 'Don't Try This at Home', and then there's 'I'm Without You' which is a great song as well. But then at the very end, a really really special song that I think probably looks like it'll be the second single. After everything's said and done, this song will be our new 'I Want It That Way'.
Amazing.
It's called 'This is Us'. It's the name of the album. When we were playing the song, Wyclef had come into the studio, and he was sitting there, and he sat back in his chair and threw his hands up in the air, and he said — 'this is going to change music!'
To get this straight, he said, 'this is going to change music'?
That's what he said. He said 'you guys did it!'.
It's inter­est­ing that you still seem so hungry for success. This is your seventh studio album now, and you had your solo album as well, you're almost 30… A lot of people would just be going 'it'll sell alright, I don't want it to be massive, I just want to carry on doing it for another couple of years, tour again, make a load more money'. But it seems you've got a real hunger for sur­pris­ing people and having a massive success with it as well.
I set very high goals, from a careerist stand­point, and also from an indi­vidual stand­point. I've changed myself as a human being, in the things that I do, and the lifestyle I lead, and physical appear­ance. I just want to be the best that I can be, in all positions and areas.
And, sorry to dwell on this, did Wyclef really say that one of your new songs would 'change music'?
Well, yeah, he did. He said 'this is the kind of song that changes music'.
'Thriller' literally changed music. In that maintream pop music before 'Thriller' is different to main­stream pop music after 'Thriller'. It changed pop music, and it changed urban music — it changed the whole lot. Do you think this will change music in a similar way?
I don't know. I think that all we can do is to con­tinu­ally struggle to be the best that we can be. If it happens, it happens and it changes things. We used to do that in the past. What we represent as far as pop music goes, it's like the purest type of music. Love music, pop music, no curse words, stuff you can dance to, stuff you can cry to. I think that music like that is on the radio again but to con­trib­ute and be at the epitome of that- it's fun to be part of it again.
Just to pick you up on that, actually — you said that your music has no curse words in it, but one of your songs is called 'Shattered', and that has the word 'shat' in it — past tense for 'shit'.
Hahaha, yes, yes it does. I apologise if anybody is offended.
*
Backstreetboys.com is a website where you are able to find more inform­a­tion about this and various other Backstreet Boys releases