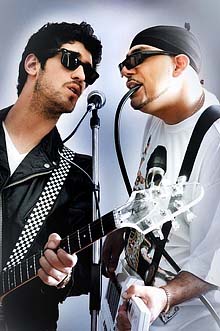 Chromeo discuss the correct approach to dating women in the world of pop…
One thing we have taken from Chromeo's album, 'Fancy Footwork', is that they like women quite a lot.
Their new single is about going out with women — spe­cific­ally younger women. Ooh, saucy etc.
We spoke to singer 'Dave 1' about his love of women and suggested some people he might like to consider dating in the not too distant future…
Questions: Peter Robinson
Answers: David from Chromeo (obviously)
Hello, David from Chromeo. You like women a lot. Your new single is about dating younger women. Can you run through the benefits of that for us please?
Older women are good but sometimes it's hard with a chick your age because you go through the same struggles at the same time and you don't really have the answers that she needs because you're looking for them too. When the chick is much younger, you've already got big exist­en­tial questions figured out. The shit that really worries you isn't on her radar so it doesn't come up and the two of you can con­cen­trate on fun stuff.
If older women are good too, which old lady does it for you?
Catherine Zeta Jones is a pretty good cougar. Do you know what a cougar is? It's an American thing; it's a very ageist, not a very nice term but it's still what we use to call a woman who is still foxy but a bit older. It's like a less vulgar way of saying MILF. The 'Sex And The City' girls were cougars. They weren't MILFs — they were straight cougars, 'Sex In The City' glorified the cougar and it's good because it made women feel sexy at that age. It gave them affirm­a­tion and that was great.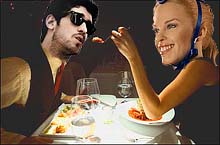 What would you do on a date with Kylie?
Kylie's a major MILF. She's no cougar, she's the MILF of all MILFs. I would def­in­itely date Kylie — I'd probably take her to karaoke. She'd be a good karaoke date. Obviously if I was trying to impress her I'd suggest we tried out a little Marvin Gaye and Tammi Terrell number, cheesy stuff like that. She probably hasn't had too much time on her hands recently to do any karaoke so I think she'd like it.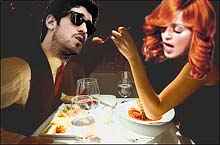 Where would you take Madonna?
I'd probably take her wherever I'd take anyone else, I certainly wouldn't go to any special effort. A nice res­taur­ant, a little walk, try to make her laugh and then to a bar. That's it. I wouldn't make it special for Madonna. I certainly wouldn't take her to the gym — I'm Jewish and we don't do sports. That'd show me up in my worst light possible, I wear arm-bands when I go swimming — I'm not doing sports with any chick. I have a theory that guys who do sports are worse in bed, it's what other girls have told me.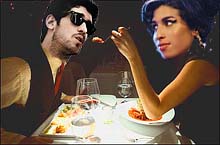 How would you approach an evening with Amy Winehouse?
She's not my type of chick, but if I was to do stuff with her I'd go extra Jewish for the occasion. I'd take her to Queens, which is the very Jewish neigh­bour­hood in New York. I'd have a knish with her, which is a Jewish meal. It is like a potato thing with dough on it. It's actually pretty terrible but I like it. She's dope, I'd hang out with her but I wouldn't go on a date with her.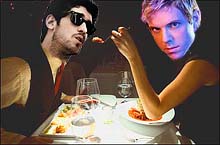 What would you do with Jake Shears?
Well I know the dude well, because we've opened for the Scissor Sisters a load of times. If I was on a date with Jake I'd probably take it easy and be relaxed when it came to deciding what to do, it wouldn't be very special because I already know him. It would just be like two guys hanging out…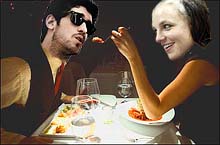 Where would you take Britney?
I wouldn't go out with a girl like that, although I think Britney is cooler now than she ever was. When I saw her with the shaved head I thought she looked good for the very first time. I never liked the way she looked all dolled up. I think she's cool now, but I just wouldn't go out with a girl like that. Next one please…
Nope, that's your lot. Thank you very much, David from Chromeo.

*