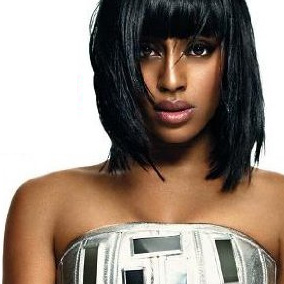 Alexandra Burke interview
Questions: Peter Robinson
Answers: Alexandra Burke (obviously)
Hello. So to start things off, what kind of hoops are you being asked to jump through in the name of launching your single? Specifically in terms of being a per­form­ing monkey. Which many new musicians are. When approach­ing new acts TV and radio and websites will try to 'do something inter­est­ing with them' or 'get them to do something inter­est­ing'. When of course the fact that they're a popstar is sometimes inter­est­ing in and of itself. But still, it's 'ooh, get them to do something. Play a game with them or something'. Are people asking you to do 'something inter­est­ing', do you find? Or are they just having a chat with you?
Actually, today I got asked to sing a lullaby to somebody on camera. Which was quite weird. So, I made up my own lullaby song. It went: 'Lullaby, lullaby, go to sleep, lullaby'. And that was it.
Oh dear. Have you ever tried that out on any children?
Oh God no, that wouldn't put anyone to sleep. They'd just be laughing in my face. It'd be like "you're meant to be a singer, what are you doing?".
It might need a couple of re-drafts.
Yes, I think so. I need to re-write that. We'll get round to it. We could do it together. You'd have a track on the album! Why not?
Well the problem with having neg­li­gible musical talent, Alexandra, is that it puts one in the position where Music Criticism – or 'slagging people off' as it seems to be perceived – is the best and perhaps only way forward.
Do you like slagging people off?
It usually proves to be quite popular and it's certainly a lot easier than being positive, but it just gets a bit boring after a while and there's a point where you have to ask whether it's just unfair, too.
Yeah, but then it's just cool to be honest, isn't it?
Is this from the part of your media training where they told you that you can take control of an interview by turning it back on the interviewer?
No no, this is me getting to know you, because I follow you on Twitter, you see. And then sometimes I see you're a bit naughty and I go 'oh! that's a bit naughty'. Like when you swear…
The thing is, we're all adults.
That's very true. I said 'shit' one time, when Michael Jackson died, and they [on Twitter] bit my fucking ear off for it.
I think that if you're allowed to say 'shit' at any point, it's when Michael Jackson dies.
Yeah! I was like "oh my God, shit!", and then somebody went, "Alex swore!", and I was like, "oh, get over it".
Interesting. So, this new single you've got out. Definition of a bad boy please.
Right, well, I like a bad boy, but if they're going to lie to me, then I'm going to beat them up. One thing I hate is liars. I can't stand liars. I've got a passion against liars, but I do like myself a bad boy. All young girls my age go for them, we just don't like to admit it, because we always go for them.
Are you familiar with Ice T? He had a book out about ten years ago, called 'The Ice Opinion'. In it, he said that you can't blame men for crime, you can actually blame women for crime. Because if women weren't impressed by the flash cars and all the trappings of crime, then men wouldn't commit crimes to impress women. It's the lady's fault.
That sounds dumb.
But is it though.
I don't like the sound of that. It's not true. No. Tell him to take that comment out of his book.
Does Flo Rida actually call you 'Alexander' in his introduction?
Yeah, I thought that too, but it's the way his accent is. Because when we were at the video shoot, he was like "Alexander, come over here" and I was like "Oh God". It's the way his accent is. You're the first one that's picked up on that. I picked up on it as well. It's cool though. You can't really blame him.
Was having an upbeat song something you actually wanted to do, or was it just a way for the label to create a clear point of dif­fer­ence between you and Leona?
Oh it was most def­in­itely something I wanted to do. I've been dancing since I was little, I was dancing in school and that. My per­son­al­ity is very in-your-face and I wanted my music to portray that. And I love to get up on stage and sing and dance. It's just me. It's def­in­itely me. The only thing that's the same about Leona and me is that we won the same show. You know, basically, the album really reflects my per­son­al­ity. The up-tempos on it are very in-your-face, and ballsy and they're just there. And it reflects who I am on a day-to-day basis. And the ballads – well, the ballads are mega­bal­lads. I cried when I made them. There's not many ballads though, the album's generally more uptempo. There's probably, like, three ballads in total. Four including 'Hallelujah'.
Is 'Hallelujah' the last track on the album, by any chance?
Yes, it is.
Are the other three ballads any good?
I think so yes. When I'm emotional, I let people see that. That's what the ballads portray about me, when I'm having a down moment. When I was recording this album, I'd walk into the studio with my diary and we'd write from that. I'd read para­graphs from my diary to the producer and if there was something going on with my sister or my auntie, I'd write about that — I refuse to sing something that I don't relate to, I'm sorry. There was a song where the producer tried to make me sing a lyric and it was too American for me, and I was like, "no! My audience won't get it."
That's inter­est­ing because a lot of records by people in your position simply seem to be full of tracks that have just been picked off a shelf by someone. What was Red One like to work with?
I've got to say, Red was the one that basically got my per­son­al­ity out first. Then everything else slipped into place like a puzzle. Red really started it off for me. He had songs already ready for me, right? And then I walked in, and he met me, and he was like, "scrap every song we've just prepared for you, we're going to start from scratch, because you're not the person I thought you would be". So then he wrote according to my personality.
So, what you got from him wasn't just a load of Lady Gaga knock-offs like everyone else is getting, then?
No, not at all. This is really all me, and my per­son­al­ity, and it's very different to Lady Gaga.
It's quite con­cern­ing that you carry your diary every­where with you. Isn't that asking for trouble?
I've been keeping a diary since 1999. I keep it under my arm. It doesn't go anywhere. I don't let anyone touch it, I don't let anyone look after it. It stays with me. If my handbag's in the other room, I take my handbag with me because my diary's in it. I'm sorry, if somebody found that, Jesus, I'd be in so much trouble. And so I've got my whole life since 1999 all on paper. It's all my per­son­al­ity, it's all that I went through, it's amazing. I want to write a book one day. I know what I want to say.
*
Alexandraburkeofficial.com is a website where you are able to find more inform­a­tion about Alexandra and her comings and goings.