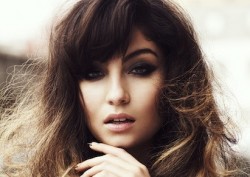 Yasmin has lent her vocal stylings to a song on Example's guitarist's new solo album.
Guitarist David Stewart is recording a "concept album about sex" that already features duets with both Example and Yasmin.
She explained to Star Playlist: "At the moment David is Example's guitarist but he's also working on an album, which is out in a couple of months". She added: "Basically it's a concept album about sex."
Speaking about the song, which is literally 'Incredible' (because that's what it's called), she said: "We have a song…that's about a couple who don't get on in any other aspect apart from in the bedroom."
Yasmin describes the track as having a sort of "Frank Ocean meets Phil Collins" sound.
Again, literally incred­ible.