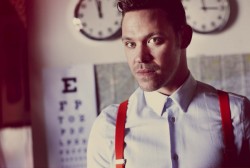 Will Young has expressed his dis­ap­point­ment at not landing a judging role on The Voice.
Speaking to the Daily Star, he said: "Of course I'm dis­ap­poin­ted not to be doing the show, not to mention how it's been handled."
Will was expected to join Jessie J, will.i.am and Tom Jones on the BBC's bigger chairs, smaller budget star search show.
Will tweeted prior to the announce­ment: "Words escape me. Life is sometimes a bitch." Later he went on: "The voice came, the voice went. They wanted to go more rock.… Should have dusted off my Leather jacket! Hey ho."
He added to the Daily Star: "The support from fans has been over­whelm­ing. They really have been amazing."